Laura Erickson shares with us the importance of wearing our Heavenly Country's colors, along with a list of "clothes" that are vital for the Bible Christian to wear.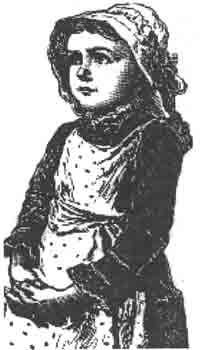 The Colors of Our Country
It was early on the morning of the Fourth of July and I was having my devotions. After a few minutes I looked up to see my sister enter the room. "Looks like you're wearing the right colors today," I remarked playfully, noting her blue denim skirt, and red, white, and blue, plaid blouse. Glancing down she replied, "I didn't plan to, but I guess I did."
I sat contemplating this for a few minutes and my thoughts turned to our life as a Christian. Many people get caught up with being patriotic and like to wear the colors that signify their belonging to the United States, especially on the Fourth of July. How much more is it important to "wear" those colors that signify our citizenship in our Heavenly Country! Every day we should "put on" the clothing that portrays the life we are living.
Paul speaks of this same idea when he says, "Put on therefore, as the elect of God, holy and beloved, bowels of mercies, kindness, humbleness of mind, meekness, longsuffering; Forbearing one another, and forgiving one another, if any man have a quarrel against any: even as Christ forgave you, so also do ye. And above all these things put on charity, which is the bond of perfectness."* (Colossians 3:12-14) God calls us His elect (chosen), holy and beloved children! He wants us to live as lights in this dark world, shining for Him. Our Lord is mighty and able to clothe us in these robes of righteousness. Let us take a closer look at the eight "clothes" spoken of in these verses.
---
Bowels of Mercies
Or "a deep tenderness and benevolence of heart that treats others better than they deserve, overlooks injuries, and has compassion on offenders."
To put on mercy is to have a mind-set to love your enemies, to overlook the faults or injustice in others, and to return good for evil. By God's grace we can cheerfully do the work that someone shirked and love them still. By God's grace we love the thoughtless child that ruined the project we had spent hours to complete. And by God's grace we can speak kindly of another that has hurt us deeply.
Kindness
Or "the disposition which delights in adding to the happiness of others."
Kindness is shown in cheerfully gratifying another's wish, supplying their wants, or relieving their distresses. With love in your heart it is easy to be kind, for kindness always accompanies love.
Humbleness of Mind
Or "the state of being meek and submissive, especially to God's will."
Pride is the opposite of humility, so to clothe oneself with humility one must not be proud. To be humble is to realize our smallness and need and look to Jesus for strength and help. I have found it easy to see myself as better than others, but this is pride for it is only in Jesus that we can live pleasing in God's sight. When we are humble we can see ourselves and others as we are, not through an outlook of self righteousness. "Humble yourselves therefore under the mighty hand of God, that he may exalt you in due time."* (1 Peter 5:6)
Meekness
Or "softness of temper, forbearance under injuries and provocation."
This includes the qualities of gentleness, mildness, and submission that Jesus portrayed as the Lamb of God. It is by meekness that we don't strive and quarrel with one another, and let go and let God do His part. In ourselves this is hard, but "Faithful is he that calleth you, who also will do it."* (1 Thessalonians 5:24)
Long-suffering
Or "the endurance of injuries for a long time with patience."
To put on the spirit of longsuffering is to bear suffering with calmness, without murmuring or fretfulness. Each person has some habit or character trait that can get on our nerves, if we let it. But by God's help we can stay sweet, even when someone is extremely provoking or bothersome. Long-suffering is only perfected through use.
Forbearing One Another
Or "the act of sparing or avoiding that which would hurt another and do that which would gratify him."
I once read of the two "bears" that are needed for a loving home: Bear and Forbear. It is by these that little annoyances do not become plagues and the mole hills mountains. We bear up with another, and we forbear not to cause another grievance or trouble. This takes a setting of oneself to see through the other's eyes and applying the Golden Rule.
Forgiving One Another
Or "the willingness to overlook offenses and to pardon another."
God calls us to forgive "as Christ forgave you."* (Colossians 3:13) And our Savior forgave us while we were yet His enemies—what love! We need such a love also to forgive another and not hold a grudge in our heart against them, especially when we have been hurt deeply. Sometimes this takes stepping back and thinking what we have been forgiven. Put on the garment of forgiveness, and when you are asked if your offender needs punishment you can reply, "Not as far as I'm concerned." Let us forgive and forget.
Charity
Or "the disposition of heart that thinks favorably of others to do them good."
This Divine love is the selfless kind, and is truly a "bond of perfectness."* (Colossians 3:14) With charity in our hearts all other garments will be worn automatically, for charity is all these and more (1 Corinthians 13). "And now abideth faith, hope, charity, these three; but the greatest of these is charity."* (1 Corinthians 13:13)
---
To be able to wear these "colors of our country," we need strength and grace from God. Let us begin our day with drawing nigh to our Source of All Strength, calling upon Him for grace for the day. In doing so we will be prepared for whatever will come our way, for God has promised, "As thy days, so shall your strength be."* (Deuteronomy 33:25) It is in starting out with the armor on and a closeness to our Savior that we can defeat every foe, triumph in the temptations, and come out of the battle an overcomer. Fight on, dear ones, and falter not, for with Jesus before us we will reach our Heavenly Home at last!
---
Laura Erickson (17), a 1996 homeschool graduate, writes from her home in Turner, OR., where she lives with her parents and younger siblings. Laura enjoys gardening and working in their greenhouse. She has been for the past year teaching school to her youngest sister and two younger cousins, which she enjoys—most of the time, anyway.