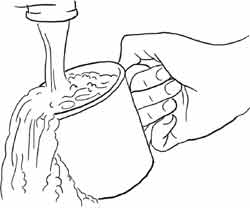 The Cup of Consolation
"I will take the cup of salvation, and call upon the name of the LORD."* (Psalm 116:13)
I was sitting on the floor in the sewing room when the call came. It was dark because I felt still the sting of the unkind words I had let slip to my sister after a very trying day. I sat, savoring the sweetness of God's forgiveness and His promise to help me to not lose my temper the next hard day He would send, when through the darkness came His voice:
"I want you to go with her."
My heart skipped a beat. What was that He had said?
"I want you to go with her."
With her? To live with her? What? Why, I just failed to be patient with her! Was He really asking me to live with her? He must mean while she was living here at our parents. Surely. Yes, that must be what He meant.
My eyes were becoming accustomed to the dimness of the room; I could see my sewing machine outlined against the dusky sky. Soon it would be dark.
"I want you to go with her."
Involuntarily I shivered, and instantly wondered why—it was not cold.
No, the room was not cold at all, but my heart—oh, dismay—my heart was as cold as ice. For I was afraid.
It was strange to be afraid. For why should I be? My mother, grandmother, and, as I had heard, my great-grandmothers were wonderful homemakers. My sister was good at it, too. She often said I could do it—if I would just try.
"Well, I do try, and try hard," I protested to the darkening sky, "and it never works like them. I don't have the knack, they must possess some secret that they don't even know, because it makes them happy. Mind that! Happy! And through my mind rushed painful memories: of beans that weren't ready on time, and of making the meal very inconveniently late. Of ill timing and wrong ingredients, of getting terribly confused with substitutes and new techniques, of accidently making chili so hot on more than one occasion that my dad could not even swallow it. Of being so frustrated with my own stupidity that I wished one never had to eat. And my poor mom! She, who deserved a much less dumb daughter had to keep patiently attempting to teach me. And I was going to make a failure out of her!
My eyes filled with tears of shame as I looked down. My Bible was down there on the floor somewhere—but—what was the use? I had so valiantly tried; He had said He would help me, but, well, I must be too stupid; maybe He had changed His mind.
"My grace is sufficient for thee."* (2 Corinthians 12:9) The bright yellow letters appeared on the floor where my tears had fallen. And then His voice: "My grace is sufficient for thee."
That word sufficient rang in my head—it meant enough. "Do you have sufficient cash to purchase such and such?" Yes, that was what it meant—enough to cover the need. My need? He had enough to cover my need?
The answer was yes. And yes. And yes again. Praise Him!
---

And so we moved—my sister, the baby she's adopting, and I—to a little mobile home in a quiet park just miles down the road from my parents.
I had promised, and I meant to keep my promise if it killed me. And I was sure it was going to kill me. All I knew how to do was the laundry, and take care of the baby. I had made main meals at home in my mom's kitchen, with the familiar pots and ingredients. If I thought it was bad cooking at my mom's, well, here it was impossible. And the first meals reflected it—two of them my sister could not eat. (Because of my hunger, I ate them. Like camping, I ruefully thought, one gets so hungry they can eat practically anything.) I was sure I was going to be a failure; but every time I told it to Him, He'd look quite confidently at me, and a far-away look would come into His eye and He'd say, "My grace is sufficient for thee." It was like He had remeasured and, yes, He was absolutely certain that there was enough sufficiency to cover my very obvious need.
One evening, after another exhausting day, I tried out a new section in The Works of John Bunyan. And what I read gripped me, for it seemed written just for me:
These vessels therefore were for some other use than for formal worship in the house of the forest of Lebanon. The best way then, that I know of, to find out what they were is first to consider to what they are joined in the mention of them. Now I find them joined in the mention of them with Solomon's drinking vessels, and since as they were made of fine or pure gold, I take them also to be vessels of the same kind, namely, vessels to drink in. Now if we join to this the state of the church in the wilderness, of which, as we have said, this house of the forest of Lebanon was a type, then we must understand that by these vessels were prefigured such draughts as the church has, when in a bewildered or persecuted state. And they are of two sorts: either, first, such as are exceeding bitter; or, second, such as are exceeding sweet; for both these attend a state of war.

First. Such as are exceeding bitter. These are called cups of red wine, signifying blood; also, the cup of the Lord's fury, the cup of trembling, the cup of astonishment, etc. (Psalm 75:8; Isaiah 51:17,22; Jeremiah 25:15; Ezekiel 23:33). Nor is there anything more natural to the church, while in a wilderness condition, than such cups and draughts as these. Hence she, as there, is said to be clothed, as was said afore, in sackcloth, to mourn, to weep, to cry out, and to be in pain, as is a woman in travail. See the Lamentations and you will find all this verified. See also Revelation 11:3, 12:2. And whoso considers what has already been said as to what the house of the forest of Lebanon met with, will find that what is here inferred is not foreign but natural. For, can it be imagined, that when the king of Assyria laid down his army by the sides of Lebanon, and when the fire was to devour her cedars, also when Lebanon was to be cut down and languish, that these vessels, these cups, were not then put into her hand. And I say again, since the church in the wilderness, Lebanon's antitype, has been so persecuted, so distressed, so oppressed, and made the seat of so much war, so much blood, of so many murders of her children within her, etc., can it be imagined that she drank of none of these cups? Yes, yes, she has drank the red wine at the Lord's hand, even the cup of blood, of fury, of trembling, and of astonishment; witness her own cries, sighs, tears, and tremblings, with the cries of widows, children, and orphans within her (Lamentations 1, 2, 4, 5).

But why cite particular texts, since reason, histories, experience, anything that is intelligible, will confirm this for a truth; namely, that a people whose profession is directly in opposition to the devil and Antichrist, and to all debauchery, inhumanity, profaneness, superstition, and idolatry, when suffered to be invaded by the dragon, the beast, the false prophet, and whore, must needs taste of these cups, and drink thereof, to their astonishment. But all these are of pure gold. They are of God's ordaining, appointing, filling, timing, and also sanctified by him for good to those of his that drink them. Hence Moses chose rather to drink a brimmer of these, "than to enjoy the pleasures of sin for a season."* (Hebrews 11:25) The sourness, bitterness, and wormwood of them, therefore, is only to the flesh that loveth neither God, nor Christ, nor grace (Psalm 75:8; Philippians 1:28). The afflictions, therefore, that the church in the wilderness hath met with, these cups of gold, are of more worth than are all the treasures of Egypt; they are needful and profitable, and praiseworthy also, and tend to the augmenting of our glory when the next world is come (1 Thessalonians 3:3; Revelation 2:10; 1 Peter 1:6). Besides they are signs, tokens, and golden marks of love, and jewels that set off the beauty of the church in the sight of God the more (Galatians 6:17; Revelation 3:19; Hebrews 12:6). They are also a means by which men are proved sound, honest, faithful, and true lovers of God, as also such whose graces are not counterfeit, feigned, or unsound, but true, and such as will be found to praise, and honour, and glory, at the appearing of Jesus Christ (Isaiah 27:9; Hebrews 12:7-10; 1 Peter 2:19; 2 Corinthians 4:17-18; 2 Thessalonians 1:5). And this has been the cause that the men of our church in the wilderness have gloried in tribulation, taking pleasure in reproaches, in necessities, in persecutions, and in distresses for Christ's sake (Romans 5:3; 2 Corinthians 12:9-10). Yea, this is the reason why they have bidden one another rejoice when they fell into divers temptations, saying, "Blessed is the man that endureth temptation,"* (James 1:12) and, "Behold, we count them happy which endure."* (James 5:11) And again, "if ye be reproached for the name of Christ, happy are ye."* (1 Peter 4:14) These therefore are vessels of pure gold, though they contain such bitter draughts, and though such as at which we make so many wry faces before we can get their liquor down.

Do you think that a Christian, having even this cup in his hand to drink it, would change it for a draught of that which is in the hand of the woman that sits on the back of the scarlet-coloured beast? (Revelation 17:3-4). No, verily, for he knows that her sweet is poison, and that his bitter is to purge his soul, body, life, and religion, of death (2 Timothy 2:11-12). God sends His love tokens to His church two ways, sometimes by her friends, sometimes by her enemies. When they come by the hand of a friend, as by a minister, a brother, or by the Holy Ghost, then they come smoothly, sweetly, and are taken, and go down like honey. But when these love tokens come to them by the hand of an enemy, then they are handed to them roughly; Pharaoh handed love tokens to them roughly; the king of Babylon handed these love tokens to them roughly. They bring them of malice, God sends them of love; they bring them and give them to us, hoping they will be our death; they give us them therefore with many a foul curse, but God blesses them still. Did not Haman lead Mordecai in his state by the hand of anger? Nor is this cup so bitter but that our Lord Himself drank deep of it before it was handed to His church; He did as loving mothers do, drink thereof Himself to show us it is not poison, also to encourage us to drink it for His sake and for our endless health (Matthew 20:22, 26:39,42). And, as I told you before, I think I do not vary from the sense of the text in calling them cups; because, though there they have no name, they are joined with king Solomon's drinking vessels, and because as so joined in the type, so they are also joined here; therefore the cup here is called Christ's cup. "Are ye able to drink of the cup that I shall drink of?… Ye shall drink indeed of my cup."* (Matthew 20:22-23) Here you see they are joined in a communion in this cup of affliction, as the cups in one and the same breath are joined with those king Solomon drank in, which he put in the house of the forest of Lebanon.

[John Bunyan; The House of the Forest of Lebanon]
"Who will suffer with the Savior?
Take the little that remains
Of the cup of tribulation
Jesus drank in dying pains?
Refrain:
"Lord, we fellowship Thy passion,
Gladly suffer shame and loss;
With Thy blessing pain is pleasure,
We will glory in Thy cross.
"Who will offer soul and body
On the altar of our God?
Leaving self and worldly mammon,
Take the path that Jesus trod?
"Who will suffer for the gospel,
Follow Christ without the gate?
Take the martyrs for example,
With them glory at the stake?
"Oh, for consecrated service
'Mid the din of Babel strife;
Who will dare the truth to herald,
At the peril of his life?
"Soon the conflict will be over,
Crowns await the firm and pure;
Forward, brethren, work and suffer,
Faithful to the end endure."*
I remembered Paul had said to the Colossians, "and [I] fill up that which is behind of the afflictions of Christ in my flesh for his body's sake."* (Colossians 1:24) Naturally, I thought the suffering had been accomplished at the cross; but being presented with the fact that there was left on purpose room for me to suffer, I began to weep. For I saw, in a very real sense, how much the Savior had suffered to give me the precious gift of forgiveness. If I suffered so much in my inadequacies in learning to be a homemaker, doing my best to obey His will, how I could I even vaguely comprehend how much He had suffered that I could be changed from being a servant of sin to a child of the King! I couldn't really comprehend; but it was beautiful to gaze upon—His love for me had gone deeper than I ever had supposed.
"So, will you drink of the cup I have drunk of already?" He gently asked me.
I sat on my bed, thinking. He had already tasted it—He knew it was bitter, the prayer in the garden of Gethesame showed that. His hope had seemed cut off, like He suffered in vain. He knew how I felt—who would want a girl who had had a record of being so dumb as to not pick up the joys of knowing how to put a house in order and run it with a confident hand?
Many others had accepted the cup of suffering, martyrs are an excellent example. It seemed they sang to me:
"Who will suffer with the Savior?
Take the little that remains
Of the cup of tribulation
Jesus drank in dying pains?"
Judith had, and she had found happiness.1
[1]:
[Judith: Martyred Missionary of Russia, by N. I. Saloff-Astakhoff]
And so I pledged and promised Him that I would drink it with Him to the very last drop, for had He not said, "My grace is sufficient for thee"? Yes, He had.
---

From that hour, I began to change. Mind you, not the circumstances, but I began to change. I found a gem of wisdom in a book about scheduling information upon which I changed a few of the ways I was doing laundry and cooking chores. And behold, the glory of the King touched and blessed the change, and I began to—yes, you guessed it—enjoy the laundry and cooking. They became exciting activities! Instead of the unshakable mindset of dumb-things-I-have-to-do (because they must be done—and how on earth can other people find pleasure in doing them?), they became alive to me, exciting to me, challenging for me to figure out their peculiar little secrets (like in cooking, and in laundry, how to be the most efficient as possible)! Yes, "the people that walked in darkness have seen a great light: they that dwell in the land of the shadow of death, upon them hath the light shined."* (Isaiah 9:2) For Jesus came to help those that dwell in the shadows of death, and to me those activities were as dead as a doornail, so to speak, for they did not challenge my mind whatsoever, rather they dulled it. And so God's great light came into this home, and my heart began to glow with the riches of His grace. Every new challenge I breathed a prayer over until it became a victory, and then how my countenance did shine! It was wonderful to work with Him beside me; oh, yes, how I do love Him!
I had found what the martyr Pomponius Algerius meant when he wrote:
The heat of the prison to me is coldness; the cold winter to me is a fresh spring-time in the Lord. He that feareth not to be burned in the fire, how will he fear the heat of weather? Or what careth he for the pinching frost, which burneth with the love of the Lord?

The place is sharp and tedious to them that be guilty; but to the innocent and guiltless it is mellifluous. Here droppeth the delectable dew; here floweth the pleasant nectar; here runneth the sweet milk; here is plenty of all good things. And although the place itself be desert and barren, yet to me it seemeth a large walk, and a valley of pleasure; here to me is the better and more noble part of the world. Let the miserable worldling say, and confess, if there be any plot, pasture, or meadow, so delightful to the mind of man, as here. Here I see kings, princes, cities, and people; here I see wars, where some be overthrown, some be victors, some thrust down, some lifted up. Here is Mount Sion; here I am already in heaven itself. Here standeth first Christ Jesus in the front; about him stand the old fathers, prophets, and evangelists, apostles, and all the servants of God; of whom some do embrace and cherish me, some exhort me, some open the sacraments unto me, some comfort me, other some are singing about me: and how then shall I be thought to be alone, among so many, and such as these be, the beholding of whom to me is both solace and example….

Now then, if to die in the Lord be not to die but live most joyfully, where is this wretched worldly rebel, which blameth us of folly, for giving away our lives to death? Oh, how delectable is this death to me! To taste the Lord's cup, which is an assured pledge of true salvation; for so hath the Lord himself forewarned us, saying, the same that they have done to me, they will also do unto you. Wherefore let the doltish world, with his blind worldlings (who in the bright sunshine, yet go stumbling in darkness, being as blind as beetles), cease thus unwisely to carp against us for our rash suffering, as they count it….

Thus do we resemble Christ our Head, which said that the disciple cannot be above his master, nor the servant above his Lord. The same Lord hath also commanded that every one shall take up his cross and follow him (Luke 9)

[quoted in The House of the Forest of Lebanon, by John Bunyan]
For if we take up His cross to follow Him, He will not leave us alone with the weight and gloom of it. Oh, no. He comes and changes the cross, and it becomes a treasure house, a delectable place:
"The voice of my beloved! behold, he cometh leaping upon the mountains, skipping upon the hills."* (Song of Solomon 2:8)
"Draw me, we will run after thee: the king hath brought me into his chambers: we will be glad and rejoice in thee."* (Song of Solomon 1:4)
"As the apple tree among the trees of the wood, so is my beloved among the sons. I sat down under his shadow with great delight, and his fruit was sweet to my taste. He brought me to the banqueting house, and his banner over me was love."* (Song of Solomon 2:3-4)
"O my dove, that art in the clefts of the rock, in the secret places of the stairs, let me see thy countenance, let me hear thy voice; for sweet is thy voice, and thy countenance is comely."* (Song of Solomon 2:14)
Sometimes the Master seems to like the strangest places—as in a cleft of rock, or under some stairs—just tell me what is so beautiful about those places? But if you go with Him, and I quote, "My beloved spake, and said unto me, Rise up, my love, my fair one, and come away,"* (Song of Solomon 2:10) it is beautiful wherever He goes, that is, if you love Him. For He is one in ten thousand. Or as Solomon put it, "the chiefest among ten thousand."* (Song of Solomon 5:10) It is Him, His voice, His countenance that makes anywhere He chooses to go so lovely.
And so it was that later I picked up the now precious passage of the bitter cup, and read on:
But these are not all the cups that belong to the house of the forest of Lebanon, or rather to the church in the wilderness; there is also a cup, out of which, at times, is drunk what is exceeding sweet. It is called the cup of consolation, the cup of salvation; a cup in the which God Himself is (Psalm 116:13; Jeremiah 16:7). As he said, the Lord is the portion of my cup. Or rather, "The LORD is the portion of mine inheritance and of my cup."* (Psalm 16:5) This cup, they that are in the church in the wilderness have usually for an after-draught to that bitter one that went before. Thus, as tender mothers give their children plums or sugar, to sweeten their palate after they have drank a bitter potion, so God gives His the cups of salvation and consolation, after they have suffered awhile. "For as the sufferings of Christ abound in us, so our consolation also aboundeth by Christ."* (2 Corinthians 1:5) Hence the apostle assureth himself concerning the affliction of them at Corinth; yea, and also promiseth them, that as they were partakers of the sufferings, so should they be of the consolation (2 Corinthians 1:7).

Some of these cups are filled until they run over, as David said his did, when the valley of the shadow of death was before him. "Thou preparest a table before me," said he, "in the presence of mine enemies: thou anointest my head with oil; my cup runneth over."* (Psalm 23:5) This is that which the apostle calls exceeding; that is, that which is beyond measure. "I am," says he, "filled with comfort, I am exceeding joyful in all our tribulation."* (2 Corinthians 7:4)

Now he has one answering the other. "Thou hast made summer and winter."* (Psalm 74:17) Thou hast made the warm beams of Thy sun answerable to the cold of the dark night. This may be also yet signified by the building of this house, this type of the church in the wilderness, in so pleasant a place as the forest of Lebanon was (Song of Solomon 4:8). Lebanon! Lebanon was one of the sweetest places in all the land of Canaan. Therefore we read of the fruit of Lebanon, of the streams from Lebanon; the scent, the smell, the glory of Lebanon; and also of the wine and flowers of Lebanon (Psalm 72:16; Hosea 14:6-7; Isaiah 35:2, 9:13; Nahum 1:4). Lebanon! That was one thing that wrought with Moses to desire that he might go over Jordan; namely, that he might see that goodly mountain, and Lebanon. The glory and excellent beauty of the church, Christ also setteth forth, by comparing of her to Lebanon. "Thy lips, O my spouse," says He, "drop as the honeycomb: honey and milk are under thy tongue, and the smell of thy garment is like the smell of Lebanon."* (Song of Solomon 4:11) This house, therefore, being placed here, might be to show how blessed a state God could make the state of His church by His blessed grace and presence, even while she is in a wilderness condition.

[John Bunyan; The House of the Forest of Lebanon]
Girls, you may be in a wilderness condition, being unmarried, and perhaps your hope is quite dim, but look what God has for you. If we want the beauty of a home and family of our own, we must drink first the cup He gives to us, and it may be bitter to our taste. And He knows, for He has tasted it first; but when we have drained the cup to the bottom He gives to us the cup of consolation. And that cup is so very sweet—unfathomably sweet.
God bless you.