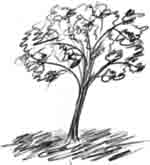 Dear Reader
"Oh that I were as in months past, as in the days when God preserved me; When his candle shined upon my head, and when by his light I walked through darkness; As I was in the days of my youth, when the secret of God was upon my tabernacle; When the Almighty was yet with me, when my children were about me; When I washed my steps with butter, and the rock poured me out rivers of oil; When I went out to the gate through the city, when I prepared my seat in the street! The young men saw me, and hid themselves: and the aged arose, and stood up. The princes refrained talking, and laid their hand on their mouth. The nobles held their peace, and their tongue cleaved to the roof of their mouth. When the ear heard me, then it blessed me; and when the eye saw me, it gave witness to me."* (Job 29:2-11)
Job was in the midst of his great trial, and the contrasts between the present and the not too distant past were very much on his mind. He was bereft of his children, his wealth was gone, his health was gone, and the respect he had been accustomed to from others was gone also. It is quite natural to compare current trials unfavorably with happy and prosperous times. And yet, Job's assessment of how things were going was different than the Lord's. Earlier in the trial, God speaks of Job thus: "Hast thou considered my servant Job, that there is none like him in the earth, a perfect and an upright man, one that feareth God, and escheweth evil? and still he holdeth fast his integrity, although thou movedst me against him, to destroy him without cause."* (Job 2:3) And although He has somewhat to rebuke Job later, yet he speaks again of Job in this way to Job's three friends: "You have not spoken of Me the thing that is right, as My servant Job has. Now therefore take seven bullocks and seven rams and go to My servant Job and offer up for yourselves a burnt offering; and My servant Job shall pray for you, for I will accept [his prayer] that I deal not with you after your folly, in that you have not spoken of Me the thing that is right, as My servant Job has."* (Job 42:7-8)
Outwardly, it looked disastrous. In terms of feelings and circumstances, it was the worst time in Job's life. But in the heavenly perspective, this trial was the proof of Job's integrity and trust in God, and a great victory was being won.
We don't have to go through as extreme a trial as Job to think in similar ways. When we are sick for a long time, it is quite natural to yearn for the days when you were well. When we feel the weight of the complex problems of life, we may yearn for the "simple" days of our childhood. If we suffer the loss of a loved one, we may yearn for the old days when we were happy together. These reactions are natural enough, but are they sound? Are they profitable? Do they give us courage in our trials? These comparisons are driven by our feelings, and put an emphasis in our hearts on the present suffering. But what is the heavenly perspective? "For I reckon that the sufferings of this present time are not worthy to be compared with the glory which shall be revealed in us."* (Romans 8:18) "For our light affliction, which is but for a moment, worketh for us a far more exceeding and eternal weight of glory."* (2 Corinthians 4:17) Here's more heavenly thinking: "They returned again to Lystra, and to Iconium, and Antioch, confirming the souls of the disciples, and exhorting them to continue in the faith, and that we must through much tribulation enter into the kingdom of God."* (Acts 14:21-22) And still more: "Beloved, think it not strange concerning the fiery trial which is to try you, as though some strange thing happened unto you: But rejoice, inasmuch as ye are partakers of Christ's sufferings; that, when his glory shall be revealed, ye may be glad also with exceeding joy."* (1 Peter 4:12-13)
Let us seek the heavenly perspective in our trials, that we may prosper in our souls.
"Say not thou, What is the cause that the former days were better than these? for thou dost not enquire wisely concerning this."* (Ecclesiastes 7:10)
Love and prayers,
The Editor