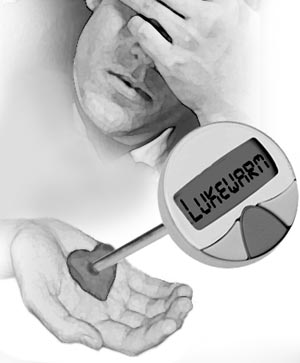 The Lukewarm Christian
Is there such a thing as a lukewarm Christian? A Christian who is neither cold nor hot? "Then because thou art lukewarm, and neither cold nor hot, I will spue thee out of my mouth."* (Revelation 3:16)
It is easier for a man to profess than it is to bear fruit. It is easier for a man to clothe himself with a fair show in the flesh than to go to the bottom and be a Christian through and through. It is easier to learn to talk the talk, than to walk the walk. It is easier to learn the art of impersonating a Christian than to be a genuine child of God, fruitful and full of sap from the True Vine. The false, barren professor is a slap in the face of the Redeemer of men, for the barren fig tree misrepresents who He is and the nature of His work.
For this reason, Christ said to the professors in the congregation at Laodicea, "I would thou wert cold or hot."* (Revelation 3:15) Either admit to being of the devil, or change so that you are a valid sample of what true Bible religion is all about (1 Timothy 4:12). Better to have pure religion, to be undefiled, or to profess no religion at all, than to be a confusing stumblingblock, a monstrous half-breed of righteousness and sin, who stands in the way of sinners (Psalm 1:1).
If all who profess to be Christians would live soberly, righteously, and godly, they would win the world for Christ in a short time. A heathen said to a missionary, "We are finding you out. You are not as good as your Book. We like your Book, but you do not live like your Book reads. If you would live like your Book reads, you would conquer India for Jesus in five years."

[Charles E. Orr; Heavenly Life for Earthly Living, "Heavenly Living"]
God strives with you to be hot, and the devil strives with you to be cold. The difference is that God is only satisfied with hotness—with heavenly fruit that is right and sound, while Satan will settle for anything less than hot. The devil is very pleased when you presume on God's longsuffering and mercy. He would have you settle down on the first part of such scriptures as, "A bruised reed shall He not break, and smoking flax shall He not quench." There Satan would have you relax, and he would have you ignore the rest of the text: "Till He send for judgment unto victory."* (Matthew 12:20) "Zion shall be redeemed with judgment, and her converts with righteousness."* (Isaiah 1:27) Notice how God goes about His work. No judgment, no redemption. God wants you hot. He has supplied the means to make hot every soul… to the utmost. People who become genuinely converted and truly sanctified, pray through instantly, and receive a molten experience by faith immediately, but when they lose out, they lose out gradually.
The thermometers of physical temperature are marked with numbers, but the spiritual thermometer of the soul is calculated with degrees of spiritual temperature. There is the temperature range of a spirit of false profession, which is decidedly colder than the temperature of perfect love. There is the spirit of touchiness (super sensitiveness) which cools into the spirit of retaliation and revenge and the spirit of surmise, suspicion, jealousy, and slander. Then follows the spirit of downright meanness. Then follows the spirit of dryness and apathy, until finally all desire to get back one's lost experience is gone forever. No desire to get straightened out ever comes back. One's appetite for the holy experiences of the past holds no relish. There is nothing left but undisturbed indifference. No sermon will reach the soul now. No light penetrates the darkened mind and soul. There remains nothing "but a certain fearful looking for of judgment and fiery indignation."* (Hebrews 10:27)
"For we know him that hath said, Vengeance belongeth unto me, I will recompense, saith the Lord. And again, The Lord shall judge his people."* (Hebrews 10:30)
Many make religion their cloak and Christ their stalking horse, and by that means cover themselves and hide their own wickedness from men, but God sees their hearts, weighs their spirits, and ponders all their goings. In the fullness of time, "God shall bring every work into judgment, with every secret thing, whether it be good, or whether it be evil."* (Ecclesiastes 12:14)
No excuse is accepted for a lack of fruit. "And if it bear fruit, well: and if not, then after that thou shalt cut it down."* (Luke 13:9) There was some delay in this judgment for the digging about and the dunging, but the delay was only to give a certain opportunity for the fruitless condition to change to fruit bearing. This is an insight that should stir us greatly. See just how serious God is about this fruit-bearing, this insistence upon being hot. "Behold, these three years I come seeking fruit on this fig tree, and find none: cut it down; why cumbereth it the ground?"* (Luke 13:7) We see at a glance that God had been monitoring things. He sees the fruitless professor as an encumbrance, an obstacle to the work of the gospel. He is dead serious about the fruit, and He is ready right now to "cut it down." Do you realize that your lukewarm condition is calling to God to cut you down now, and you are only spared a while longer in a last-ditch effort to stir you to be fruitful?
It will do you no good to repeat your old and discredited arguments excusing your lack of fruitfulness. The man who attempted to run away from God, who found himself praying in the belly of the great fish, came to a horrible realization. "They that observe lying vanities forsake their own mercy."* (Jonah 2:8) Jonah acknowledged that observing lying vanities had gotten him into the fix he was in, and he vowed some vows about what he would do if God would deliver him.
You need to acknowledge that a lot of your religious profession is really self-interest and self-love, instead of real love to God. This is why you are so lacking in genuine gospel fruit. You are living your own life, instead of Christ living His life through you, and this has produced a completely different life than He would live in you.
Now you have a choice. You can continue to sustain your spirit of touchiness and shield your roots from the gospel digging and dung by crying, "Judge not, that ye be not judged,"* (Matthew 7:1) or you can forsake your lying vanities, thus finding mercy and receiving healing
When the gospel came to Samaria, it found Simon in an important place among the people. He was a politician, a popular celebrity, an expert manipulator, of whom it was said that he "used sorcery, and bewitched the people of Samaria, giving out that himself was some great one: to whom they all gave heed, from the least to the greatest, saying, This man is the great power of God."* (Acts 8:9-10) But the gospel delivered the Samaritans from this bewitchment. They received another life from the Lord Jesus Christ and were no longer deceived and manipulated. Praise God for deliverance! And, amazingly enough, Simon believed also and was baptized. He would now profess to be a pilgrim and a stranger in this world, a faithful follower of the Lord Jesus Christ.
Now it would be a wonderful thing if the aftermath had proved that Simon had really changed, had fallen head over heels in love with Jesus, and had been completely and thoroughly delivered from what he was before. But, alas! This Simon was only a barren professor, although he was planted in the vineyard of the Lord for a while. The Lord Jesus searched him and knew him. One of the servants of the Lord caught a glimpse of his heart in a certain matter, and the Lord Jesus used that servant to tell this man the truth. "Thou hast neither part nor lot in this matter: for thy heart is not right in the sight of God…. For I perceive that thou art in the gall of bitterness, and in the bond of iniquity."* (Acts 8:21,23) This was a terrible indictment of his lack of gospel fruit, his barren profession. But notice the apparent humility of this professed brother. "Then answered Simon, and said, Pray ye to the Lord for me, that none of these things which ye have spoken come upon me."* (Acts 8:24) As though Peter could pray the prayer that Simon needed to pray. As though the whole point was "that none of these things… come upon me." There was no godly sorrow. There was no heart-felt repentance, nor an abhorrence of one's self. Oh, what a lack of hot love! What a calculated profession! What a lot of love for self!
So many fruitless trees, planted in the vineyard of the Lord, have come to this—the pointless, futile, abortive state. "And in that day seven women shall take hold of one man, saying, We will eat our own bread, and wear our own apparel: only let us be called by thy name, to take away our reproach."* (Isaiah 4:1) They want the name, but it is love for themselves that motivates them. They want the name, but they care nothing for the honor of the Lord Jesus.
As one brother stated,
To get (professing) holiness people to live holy lives is an exceedingly great task. To live a strictly holy life, just like our blessed Lord, is grand and glorious, but it is difficult to get people to live that way. It can be done, but it is not being done by very many. There are many who desire to live holy, but they fail to put forth the earnest effort and live it right up to what they know they should. They want to live closer to God, but they do not do it. They do not mean to neglect, and yet they do neglect. They know they should pray more, but they do not pray more. Many of these dear people confess that they talk too much and speak impatiently, but we see little or no improvement. They fret and worry and are anxious, and know they should not be, and yet they continue on in the same life.

[Charles E. Orr; Helps to Holy Living, "Part I"]
It will not always continue at this level. God will come and spue you out. He will gather out of His kingdom all things that offend. He will send His Word and His Spirit to stir you, and if you will not be stirred, He will leave you to your devices. Your reproach will become more evident; you will be delivered to Satan for destruction. "Walk in the ways of thine heart, and in the sight of thine eyes: but know thou, that for all these things God will bring thee into judgment."* (Ecclesiastes 11:9)