Tell What He's Done for You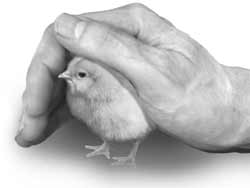 God's Hand of Love
Before a recent trip we took as a family, I'd had fears about getting sick, with Daddy being sick already, and it just seemed that I would get sick and have a miserable plane ride, with my ears having pain in them going up and down. But the Lord helped me to be able to grasp hold of His promise, the Sunday before we left.
I had been battling the fears, but the Lord sent me help to go on His power. The scripture, "Having a form of godliness, but denying the power thereof,"* (2 Timothy 3:5) was a challenge to me not to be that way, but to have God's power, believe in His power, and in this case, believe that God was in control of all these sicknesses. I was able to rest in God. I thank the Lord for helping me to do so. The thought also came that God is able to work "all things together for good to them that love God, to them who are called according to His purpose."* (Romans 8:28) That was a real encouragement to me, too. Just as I shared that, and stated those promises, it was like a door opened up to me of encouragement, and cheer flooded my heart about the trip, that I could trust Him. It was very sweet to me.
The Lord helped on the trip. He saw fit to keep me well on the way there, the Lord helped with my ears, and I wasn't afraid. It was so blessed to not be afraid. We got there and spent several days with different folks, and I had strength to help out.
One morning, I had gone on a walk around in the cold morning air, and had gone through a sprinkler, thinking I would dry off really quick. Instead, I started feeling chilled, and came down sick the worst I'd been for a long time, losing almost all my appetite. The first night I noticed myself getting sick, I'd started having a cough, and phlegm building up deep in my throat. As it went on throughout the night, I could sense it was getting worse, and my breathing was getting harder, and I just wasn't able to sleep. I didn't want to not cough it up, because then it settles in my lungs and gets harder to breathe, so I was trying to keep it coughed up, but as the night went on, it seemed that I was disturbing the sleep of the entire household, and I began to have a battle with fear. It seemed like that after all, here, far away from home, I was getting sick like I had been years before, where I would have to be carted around everywhere. It seemed so BIG.
At that point, somehow, the Lord helped me as I cried out to him, to remember that "all things work together for good to them that love God," and also, "For which cause we faint not; but though our outward man perish, yet the inward man is renewed day by day. For our light affliction, which is but for a moment, worketh for us a far more exceeding and eternal weight of glory."* (2 Corinthians 4:16-17)
I felt like the Lord was saying that He had something precious for me out of this. I was able to thank the Lord for the trial, and for being able to work this together for my good. There were different scriptures that the Lord blessed to my heart—He drew very close and gave them to me—different ones that I had been recently memorizing. I think one of them was: "Ye are the light of the world. A city that is set on an hill cannot be hid. Neither do men light a candle, and put it under a bushel, but on a candlestick; and it giveth light unto all that are in the house. Let your light so shine before men, that they may see your good works, and glorify your Father which is in heaven."* (Matthew 5:14-16) The Lord used them to really comfort my heart that night. I realized that the Lord could take care of it if all the others couldn't sleep, too.
The benefits weren't just thankfulness for the help the Lord gave directly. (I had only that one night of really hard breathing. The next day I asked for special prayer to be able to lean on Him, and the Lord really answered prayer, giving me a good sleep that night. The next night I was kept awake by the cough again, but not by breathing problems any more.) The Lord also measured things out, taking care of other problems I could have had at the same time. There were just a lot of things where I could see God's hand of love for me. Looking back, it isn't so much that I was sick far from home and God lifted me up, but what stands out to me is God's love for me. He made the fears depart, that were too big for me! The Lord took care of them! He succored me. It's just one of the priceless things that God gave me out of this, and I wouldn't have got them if I hadn't gone through that.
I believe God has more for me, to find His power back here at home. "Godliness with contentment is great gain."* (1 Timothy 6:6) It's a big word, but God has power to show that in my life, too. I want to get the victory—so that when Jesus comes, seeking fruit, He'll be able to find it—that I would be ready. I don't want to be just cumbering the ground (Lk. 13:7). I pray this would be a blessing to some of you—I want to glorify God for what He's done.
He Can Take a Small Desire…
Two years ago I was struggling with love for the world and a lot of things of the world. I kept asking the Lord to take it out of my heart, but part of me still wanted it, so I was having this battle between the flesh that desired it, and the spirit that longed to follow the Lord more closely and have more of His spirit. I couldn't reconcile the two—they don't work very well together.
One day, when my husband and I were talking about one aspect of the love of the world that was in me, I just started crying: "I want it, I want it… but I want the Lord." So then I started really seeking the Lord to take it from me, even though I still wanted it. It was a weird battle, because I kept saying, "Lord, take it"; but then I'd think, "I don't want Him to take it." I kept praying, "Please make me want You to take it"; "Please make me want You more"; "Give me a hatred for this thing of the world, even though I love it"—because I still wanted the Lord most of all.
Finally, one night, He just broke through, and poured His Spirit out on me in a way I've never experienced before or after. He broke my love of it, and filled my heart with His love, and showed me how much better it was. I just couldn't get off my face, He was so holy and so full of love, so much more than anything I would ever cling to in this world—so much more wonderful, and so much more to cling to. All my dust that I was clinging to was so little, and I saw it through His eyes.
I am so grateful that He can do that in us, even if we don't want Him to fully—He can take a small desire in us, and He can fill it.