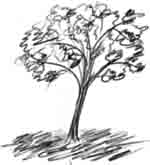 Dear Reader
I had purchased a new car stereo, because the one I had couldn't play MP3 CDs, and I was unable to listen to sermons, songs, and devotional materials on the way to and from work. I had read and heard that installing your own stereo, instead of having professionals do it, would be a considerable savings in money and was not difficult to do. I decided that it was time for me to learn how to do this.
I asked the Lord for courage and help, and began studying "how-to" guides online, and in my car maintenance manual. I got my tools together, and set to work: disconnect negative battery terminal, remove ashtray, remove screws behind ashtray, etc., etc. As I began to pry the plastic trim panel out to remove it, I ran into perplexities. I kept praying and studying and plugging away at it, and eventually found the screws I needed to remove and got it worked loose without breaking anything. Then I removed the screws that held the old car stereo in place, and began to pull it out. There was an antenna cable to remove from the back, and that came out easily. But then I got stuck on the wiring harness—I couldn't figure out what "clip" there was to press down on, to pull it loose.
I prayed. I researched online. I read the manual. I experimented. I pulled harder. I took breaks and tried again. I even got counsel from a couple of friends over the phone—but all to no avail. I began to conclude that I would have to attempt to put it back in as it was and take it to the professionals after all.
Then, as I was mentioning this to another friend, he offered to come help me. I knew he had had a busy day and had other responsibilities, but I accepted the kind offer. He took a look at the wiring harness, noticed a certain part of the connection that he identified as a tab, pressed hard on it, pulled, and—success! What a relief! What thankfulness it wrought in my heart!
"Every way of a man is right in his own eyes: but the LORD pondereth the hearts. To do justice and judgment is more acceptable to the LORD than sacrifice."* (Pro 21:2-3)
I had been "sacrificing" plenty—I had put a lot of time and effort into trying to get that stereo out. I put a lot more effort into it than my friend did, without success. But he knew what to look for, and what needed to be done; he knew what was "acceptable" to accomplish the task.
Is there something that has looked right to you for a long time, but hasn't been prospering? Is there an area of your life in your walk with God where you have applied a great deal of effort, but somehow it doesn't "go," or prosper? Have you submitted yourself entirely into the hands of God to learn what is "justice and judgment" in the matter, and stopped measuring by "sacrifice"? Has the Lord been talking to you about letting go of something and letting Him work, or withdrawing from something into which you have invested a great deal of your energy?
I could have chosen to resist or reject the help of my friend, or looked at the "egg on my face" instead of the mercy the Lord was showing me through this friend. I chose to stop reasoning my own reasons, defending my own efforts, and yielded to the "justice and judgment" of another.
God gives me plenty of opportunity to exercise this choice, to stop looking with my own eyes, and to commit myself and my way into the hands of Him who "pondereth the hearts," and to learn "justice and judgment" from Him. I do not regret yielding to Him!
Love and prayers,
The Editor