Question About the Medical System
Part One
---
Question:
Should we, as saints, acknowledge and value the work of doctors and medical nurses? Is it right to claim that God uses them and their medicines?
Reply: Part One
The short answer to this question is—
Be ye not unequally yoked together with unbelievers: for what fellowship hath righteousness with unrighteousness? and what communion hath light with darkness? And what concord hath Christ with Belial? or what part hath he that believeth with an infidel? And what agreement hath the temple of God with idols? for ye are the temple of the living God; as God hath said, I will dwell in them, and walk in them; and I will be their God, and they shall be my people. Wherefore come out from among them, and be ye separate, saith the Lord, and touch not the unclean thing; and I will receive you, and will be a Father unto you, and ye shall be my sons and daughters, saith the Lord Almighty.

Having therefore these promises, dearly beloved, let us cleanse ourselves from all filthiness of the flesh and spirit, perfecting holiness in the fear of God.
Let me call your attention to the words that describe a certain lack of relationship, a certain lack of rapport (like-mindedness, fellowship, comradeship, camaraderie, sympathy), between the way of God and other ways. What fellowship? What communion? What concord? What part? What agreement? We see immediately that it is possible to so conduct ourselves toward the medical people in such a way that an affinity develops between us and them. Let us ask ourselves: Just what are these people, especially in spirit? (For we are to "know… no man after the flesh."* (2 Corinthians 5:16) Where do they get their inspiration to do as they do and say as they say? Where is their focus? Do they live by "faith which worketh by love,"* (Galatians 5:6) as the holy do, or do they live by some philosophy or creed that is not of God? And when we ask ourselves these questions, we see immediately that the entire system was not inspired of God. "For they that are after the flesh do mind the things of the flesh; but they that are after the Spirit the things of the Spirit."* (Romans 8:5) This is enough to guide us, right here, but the inspired writer adds, "For to be carnally minded is death; but to be spiritually minded is life and peace." Without hesitation, we brand the medical "spirit" as carnal. It is focused on preserving fleshly life, regardless of the will of God. Have you ever seen a doctor withhold treatment because he or she felt that it was time for the patient to put their house in order, for it was God's time for them to die? Or to be focused on the affliction in such a way that a doctor would say, "You know, I believe that this affliction has been allowed to come upon you because God is dealing with you about (take your pick) how you treat your wife, your customers, your children." The patients wouldn't stand for it (what are they paying for?), and the general peer pressure of the medical community wouldn't stand for it, either.
"For our rejoicing is this, the testimony of our conscience, that in simplicity and godly sincerity, not with fleshly wisdom, but by the grace of God, we have had our conversation in the world, and more abundantly to youward."* (2 Corinthians 1:12) What is this "fleshly wisdom"? How is it different from "the wisdom which cometh from above"* (James 3:17)? What did Brother Paul mean when he told the Corinthian congregation, "And I, brethren, when I came to you, came not with excellency of… wisdom, declaring unto you the testimony of God…. That your faith should not stand in the wisdom of men, but in the power of God"* (1 Corinthians 2:1,5)? (I am focusing on the right kind of wisdom of trusting God with our bodies in our afflictions, so I am not addressing the overall aspect of our faith not standing in the wisdom of men. I do want to say that intellectual conversion, instead of heart conversion, is just as emphatically taught against in these verses as is faith in God is taught for the needs of the body.) How indefensible is the doctor's wisdom in the light of these scriptures! "That your faith should not stand in the wisdom of men, but in the power of God." It goes both ways. Our faith in God for the salvation of our souls is the same faith as our faith in God for the needs of our bodies. Both must be inspired to be effectual and practical. "Now the body is not for fornication, but for the Lord; and the Lord for the body."* (1 Corinthians 6:13) Just as the body can be misused sexually, so also a reverence for fleshly existence misuses the body, too. If the knowledge had been allowed them, the medical profession would treat human beings so that they would never die, and are doing their best to make them live as long as possible. This disposition on their part ignores why we are down here, why the human creature is subject to the vanity of an earthly body. They are focused on fleshly life and on prolonging it to the maximum degree possible.
It means a great deal to consecrate not to live one moment longer than God wants me to live. There is great divine wisdom over this, and a great number of people have lived "beyond their time," and God has suffered it to be so to illustrate the consequences to all who will look and ponder. We have a Bible example of this in Hezekiah, who was told, "Thus saith the LORD, Set thine house in order; for thou shalt die, and not live."* (2 Kings 20:1) Hezekiah asked for an extension, and God let him have it. But things did not go well for Hezekiah in those additional fifteen years. He got into a lot of trouble (v. 13-19; see also 2 Chronicles 32:25). We see the effect that having his own way had on his vision: "And he said, Is it not good, if peace and truth be in my days?"* (2 Kings 20:19) There is more to this matter of living than just peace and truth in my days. We do not live to ourselves or die to ourselves (Romans 14:7).
A brother told me of the experience of a elderly sister in his congregation. She was a child of God and wished to trust God exclusively. When she was allowed a life-threatening affliction by divine providence, she was consecrated to go, but her unsaved children wanted to keep her. So they took her to the medical profession, and God permitted her to stay alive. She suffered terribly for years after. The children got to keep her for a while longer, all right, but it was not a cause for rejoicing. Said the brother, "It is better for God to have His way. He knows best." I say amen. It is better for God to have His way, no matter how it looks to us. God help us to get deeper in Him.
The poet grasped the point of divine truth, and he wrote:
"God's way is best; if human wisdom
A fairer way may seem to show,
'Tis only that our earth-dimmed vision
The truth can never clearly know."*
Down here, where the veil of the flesh is thick, we see through a glass darkly. But we wish to add that inspired faith pierces that veil and soars in the sunlight of eternity. God help us to follow the rest of the poet's counsel, inspired of divine wisdom and inspiration.
"Had I the choosing of my pathway,
In blindness I should go astray,
And wander far away in darkness,
Nor reach that land of endless day.
"He leadeth true; I will not question,
Though through the valley I shall go;
Though I should pass through clouds of trial,
And drink the cup of human woe.
"God's way is best; heart, cease thy struggling
To see and know and understand;
Forsake thy fears and doubts, but trusting,
Submit thyself into His hand.
"Thy way is best, so lead me onward,
My all I give to Thy control;
Thy loving hand will truly guide me,
And safe to glory bring my soul."*
As long as Israel trusted God whole-heartedly, He fought their battles and administered healing, admonishment, and guidance, as needed. He knew how to keep them from being puffed up by their victories (Judges 7:2,4,7); He knew how to keep them from discouragement, from annihilation. And, my brother, He knows how to deliver the godly out of temptations—including the temptations to trust Him less than completely. But when they were weakened and damaged by much disobedience and idolatry, they began to form alliances with other countries. They began to mix faith in God with faith in other things, and the result was the same as it is today. Faith in God waxes less, while faith in the other things increases. Jesus foresaw the decrease in faith that would accompany the increase of knowledge in the last days, and He said, "Nevertheless when the Son of man cometh, shall he find faith on the earth?"* (Luke 18:8) And again, "For there shall arise false Christs, and false prophets, and shall show great signs and wonders; insomuch that, if it were possible, they shall deceive the very elect."* (Matthew 24:24) God has permitted man to learn much about the intricacies of fleshly life, but this knowledge puffs him up and hurts his faith. The flood of information we have about the physical body has the potential to even deceive the very elect. It can cause us to think that we have a grasp of the realities of physical existence, when we have actually only scratched the surface of our physical diversities, and it ignores the connection to our spiritual existence. We are as children who get exalted when we learn just a little. We began to think ourselves competent to manage things, while the truth is that we are poor, blind, and naked and know nothing such as we ought to know. How deceptive this exposure to a little knowledge in only a small portion of the overall picture that would deceive even the very elect, were it not for the guidance of the Holy Ghost, who leads us away from fleshly wisdom. The Holy Ghost helps us to perceive the end results of many things of our day which exhibit great signs and wonders. "Ye shall know them by their fruits."* (Mark 7:16) Note that "fruits" is plural, not singular—it is more than one fruit that exposes them.
"But as it is written, Eye hath not seen, nor ear heard, neither have entered into the heart of man, the things which God hath prepared for them that love him. But God hath revealed them unto us by his Spirit: for the Spirit searcheth all things, yea, the deep things of God."* (1 Corinthians 2:9-10) Many of the mysteries of physical life which God has prepared for them that love Him have not entered into the mind of man, either. "For I am fearfully and wonderfully made: marvellous are thy works; and that my soul knoweth right well."* (Psalm 139:14)
The presumption that supposes that we can take from the world (including the medical world) just enough to do us good without damaging our faith in God is an exceedingly dangerous presumption. If we could see Biblical examples of good fruit proceeding from such an approach, we would gain confidence that God meant and means to work that way, but behold! The opposite is true. As one brother said, "There is not one word in the Bible favorable to physicians." This is not only true, but there is an either/or in trusting God versus trusting man. "Thus saith the LORD; Cursed be the man that trusteth in man, and maketh flesh his arm, and whose heart departeth from the LORD…. Blessed is the man that trusteth in the LORD, and whose hope the LORD is."* (Jeremiah 17:5,7) Notice the either/or of these verses. But the Word goes closer yet and immediately says, "The heart is deceitful above all things, and desperately wicked: who can know it?"* (Jeremiah 17:9) And then the voice of inspiration puts before us this information: "I the LORD search the heart, I try the reins, even to give every man according to his ways, and according to the fruit of his doings."* (Jeremiah 17:10) Notice the trying aspect of this. "Thou shalt remember all the way which the LORD thy God led thee these forty years in the wilderness, to humble thee, and to prove thee, to know what was in thine heart, whether thou wouldest keep his commandments, or no."* (Deuteronomy 8:2)
It is the way of (carnal) man to contend that he has a right to do whatever seems good to him to preserve physical life, particularly his own. Many sinners really believe that they have a right to tell lies, kill in self-defense, and even to "do it to them before they do it to me." A life of resignation to the will of God, a life of trust and confiding in their Creator, does not appeal to them at all; indeed, it is Anathema Maranatha to them, a matter of abhorrence and outrage. They do not like to read such things as, "And Asa in the thirty and ninth year of his reign was diseased in his feet, until his disease was exceeding great: yet in his disease he sought not to the LORD, but to the physicians."* (2 Chronicles 16:12) But there is more to the story of Asa than even the either/or of this text. When we read what is recorded in the chapter up until this verse, we find his pattern of trust in other things. This instructs us in the nature of Asa's heart. Verses 1-6 tells us of his league with the king of Syria. Verses 7-9 inform us of Asa's reproof from God by the hand of the prophet Hanani, who reminded the king of how God had helped him in the past when Asa relied on God. Hanani declares that Asa "relied on the king of Syria, and not relied on the LORD thy God." Notice how the concept of trusting in both God and the king of Syria does not exist—it is either/or again. Consider the implications of the word rely. This is a powerful word of trust: "To place or have faith or confidence." Asa put his faith/confidence in something other than God—that is how God saw it. (Need we add that how God saw it is the truth of the matter?) After Asa was given this rebuke, the condition of his heart was further revealed by his subsequent actions. "Then Asa was wroth with the seer, and put him in a prison house; for he was in a rage with him because of this thing. And Asa oppressed some of the people the same time."* (2 Chronicles 16:10)
The same oppressive power accompanies the medical spirit today. It reacts carnally to an examination of motives. On one hand, it would have us believe that it is altruistic and unselfish, doing good to mankind out of the goodness of the heart. This is false. It charges dearly for its services. Its rulers and great men, so to speak, are not poor, dedicated servants of mankind, at all. Most of them are in it for the money. Most of their "compassion" is professional—it is an exhibition of fleshly wisdom from beginning to end. Instead of humility, we see arrogance or blindness. Also, a real contempt for anything that ignores their system. And this work of men has assumed an authority and place in the world in which we live that is dangerous to those who trust God exclusively with their bodies and the bodies of their children. They will accuse you of neglect and abuse if you use not their services; they will take from you your life and liberty for trusting God. If God takes our children out of this world, they would convict us of manslaughter. If we wait on God without involving them, they will convict us of child abuse. And they will draw no distinction between those of us who trust God responsibly and sincerely and those who do indeed neglect and abuse their children. They bury their errors and expose them not to public scrutiny, if possible, but they extend little or no charity to those who deal with affliction by other means. This includes not only those with exclusive trust in God, but those who doctor themselves and rely on anything other than the "authorized" medical system.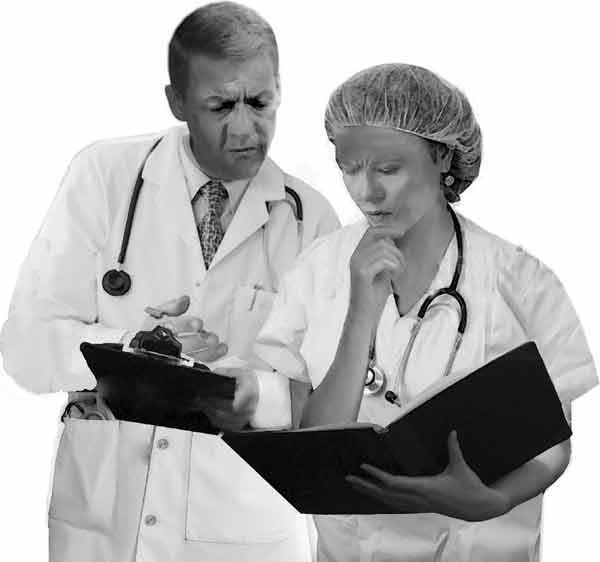 There is a day coming when all of this is going to be brought to light. "Fear them not therefore: for there is nothing covered, that shall not be revealed; and hid, that shall not be known."* (Matthew 10:26) You and I will be astonished at the revelation of the commonality of experience of the woman who had spent all her living upon physicians, neither could be healed of any. "And a woman having an issue of blood twelve years, which had spent all her living upon physicians, neither could be healed of any, came behind him, and touched the border of his garment: and immediately her issue of blood stanched."* (Luke 8:43-44) I daresay that the revelation of the massive failures of the medical community will be shocking and overwhelming. I daresay that the successes of the medical community will be revealed as narrow in scope, greatly exaggerated, and rather pitiful, as all of us—doctors, patients, and everybody else—stand before the great Physician, the Creator of the human body and human soul. He made germs; He made disease; He made us subject to the vanity of temporal existence; He tries and tests; He meddles and interferes in the affairs of mankind as His perfect wisdom and knowledge dictate; He designed the body to be imperfect, to be infirm. He originated childbirth, old age, and death. He subjected us to miscarriages, deformities, Down's Syndrome, the diverse cancers, and AIDS. "Beloved, think it not strange concerning the fiery trial which is to try you, as though some strange thing happened unto you: But rejoice, inasmuch as ye are partakers of Christ's sufferings; that, when his glory shall be revealed, ye may be glad also with exceeding joy."* (1 Peter 4:12-13)
And how is it Christ's suffering? "Forasmuch then as the children are partakers of flesh and blood, he also himself likewise took part of the same…. For verily he took not on him the nature of angels; but he took on him the seed of Abraham. Wherefore in all things it behoved him to be made like unto his brethren."* (Hebrews 2:14,16-17) "For we have not an high priest which cannot be touched with the feeling of our infirmities; but was in all points tempted like as we are, yet without sin. Let us therefore come boldly unto the throne of grace, that we may obtain mercy, and find grace to help in time of need."* (Hebrews 4:15-16) "[Jesus] made himself of no reputation, and took upon him the form of a servant, and was made in the likeness of men: And being found in fashion as a man, he humbled himself, and became obedient unto death, even the death of the cross."* (Philippians 2:7-8) "Surely he hath borne our griefs, and carried our sorrows: yet we did esteem him stricken, smitten of God, and afflicted. But he was wounded for our transgressions, he was bruised for our iniquities: the chastisement of our peace was upon him; and with his stripes we are healed."* (Isaiah 53:4-5) "When the even was come, they brought unto him many that were possessed with devils: and he cast out the spirits with his word, and healed all that were sick: That it might be fulfilled which was spoken by Esaias the prophet, saying, Himself took our infirmities, and bare our sicknesses."* (Matthew 8:16-17)
To this picture, we might add that there are plenty of humans in the medical system who are touched in the flesh and moved with fleshly sympathy for the afflictions of others. This is commendable to a certain extent, but it is far from the ways of faith and complete trust in God—indeed, it gets in the way of complete, trusting consecration and interjects fleshly wisdom into the thinking of the afflicted because it is neither being led nor instructed of the Lord. God does not look at pain and trouble as we do, and we need to learn the ways of the Lord to trust Him as we should.
In the face of all the distrust of God in the world, in the face of their reliance on other things than their Creator, we rejoice in His trying of us. "That the trial of your faith, being much more precious than of gold that perisheth, though it be tried with fire, might be found unto praise and honour and glory at the appearing of Jesus Christ."* (1 Peter 1:7) We love Him. We trust Him. "Hold your peace, let me alone, that I may speak, and let come on me what will. Wherefore do I take my flesh in my teeth, and put my life in mine hand? Though he slay me, yet will I trust in him."* (Job 13:13-15) Our trials are not accidental; they are appointed. "That no man should be moved by these afflictions: for yourselves know that we are appointed thereunto."* (1 Thessalonians 3:3)
"In God have I put my trust: I will not be afraid what man can do unto me."* (Psalm 56:11) "But let him ask in faith, nothing wavering. For he that wavereth is like a wave of the sea driven with the wind and tossed. For let not that man think that he shall receive any thing of the Lord. A double minded man is unstable in all his ways."* (James 1:6-8)
"But the wisdom that is from above is first pure."* (James 3:17) This purity of trust, of motive; this wonderful purity from above; this perfect love of God and the pure faith that enables to see Him and trust Him perfectly—if we are lacking in this wonderful pure wisdom from above, "let him ask of God, that giveth to all men liberally, and upbraideth not; and it shall be given him." Oh, what a wonderful promise! If you are mixing your trust in God with a reliance on other things, including the wisdom of the medical world, God has something infinitely better for you. Praise His name! If you will unwaveringly look to God, the pure wisdom shall be given you. Yea, you can trust the Lord exclusively and not be ashamed. The double-mindedness can be removed from you, with its accompanying instability. "Behold, God is my salvation; I will trust, and not be afraid: for the LORD JEHOVAH is my strength and my song; he also is become my salvation. Therefore with joy shall ye draw water out of the wells of salvation…. Cry out and shout, thou inhabitant of Zion: for great is the Holy One of Israel in the midst of thee."* (Isaiah 12:2-3,6)
I was sitting in a sectarian church on a weekday, for I had an appointment to read to the children in a church school there. I was waiting to be introduced to one of the teachers, and she was teaching a Bible story to the children. She was telling the story of the dealing of Jesus with an afflicted man (I do not remember just which story), and as she came to the part where Jesus healed the man, she hesitated. One could almost see the thoughts going through her mind. She knew what the Bible taught; she knew that Jesus had healed the man. She also knew that neither she or anyone else there (presumably) trusted God as the Bible taught, so she lied. I heard this with my own ears: she said, after the hesitation, "So Jesus said, 'Take him to the doctor.' " I bowed my head in grief. I said in my heart, "O Lord! This lie has been told in Your name. This adult has deceived these little trusting hearts. You have been falsely represented. I am so sorry, Lord. I am sorry that I had to witness it." I prayed that God would override the lie, that He would deal with the little hearts that heard the false doctrine that day. And now, as I write these words and relive what I heard that day, I marvel at the audacity of the thing. In the Bible record, there stood the Creator of mankind in fashion as a man—the Healer in Zion—yet this wicked woman would portray Him as needing the services of earthly physicians, as giving homage to the assumed place and position of arrogant, presumptuous fleshly wisdom. Oh, what a wicked thing! How evil! How disrespectful of God! "As though he needed any thing, seeing he giveth to all life, and breath, and all things."* (Acts 17:25) And she knew better! Surely the wisdom from above is without hypocrisy, whereas the wisdom from below is earthly, sensual, devilish!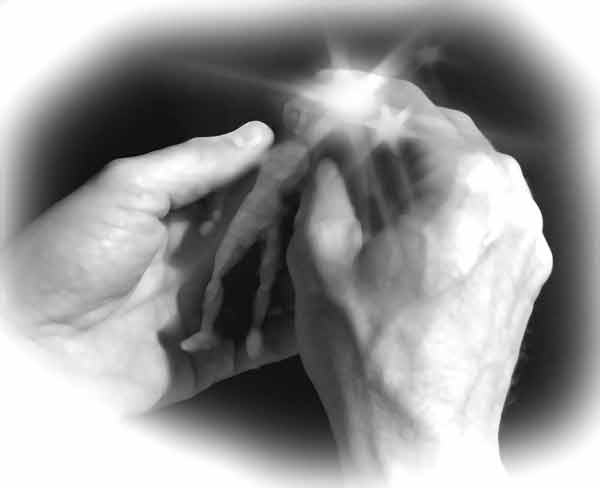 Whence cometh this idea that we should rely upon the fleshly wisdom of the medical profession? "This persuasion cometh not of him that calleth you."* (Galatians 5:8) Paul spoke these words of the persuasive pull of the old Jewish religion to those who had trusted in Christ for their souls, but the thought is just as consistent with trusting God exclusively for our bodies. God is in the business of calling us to perfect trust, perfect reliance, on Him. Anything less that this is a denial of Him. There are those who pick at the normal human thinking of taking care of ourselves in diet, exercise, sanitation, etc. They would have us think that these considerations are less than perfect trust in God, and so they contend that to rely on formally educated fleshly wisdom (the medical profession) is consistent and but a step further. So when Paul advised Timothy to use grape juice (mildly fermented) instead of water for his often infirmities, these less-than-exclusive advocates would have us believe that normal maintenance (nursing) care is curative. They would blur the lines between normal care of the body and attempts to cure the afflictions that come on the body. So they would contend that Paul was attempting to cure Timothy of his infirmities by advising a change in diet.
There is a place for sound thinking, and there is a place for abandonment of all natural wisdom, so we read: "Trust in the LORD with all thine heart; and lean not unto thine own understanding."* (Proverbs 3:5) How will we know the difference? Where are the lines drawn? Answer: "And thine ears shall hear a word behind thee, saying, This is the way, walk ye in it, when ye turn to the right hand, and when ye turn to the left."* (Isaiah 30:21) If you read the verse before this, you will see that this applies to "the bread of adversity, and the water of affliction." If you cannot hear the word, then you cannot trust as you should; you will turn to the wrong way. If you apply a fanatical philosophy, you will think of God as austere and less-compassionate and empathic than He actually is. If you apply a liberal philosophy, you will think of God as less strict and careful than He actually is. We need help from God to trust Him as we should. Again, we come to the promise: "Let him ask in faith, nothing wavering, and it shall be given him."
Have you, dear brother, been given wisdom from above to trust Him? Then stay in the boundaries of that wisdom. If you have not been given it, it is there for you to get. God is on the giving hand. "It shall be given him." He is a God at hand, not a God afar off. Humble your heart before God. Repent of any shortcomings in yourself that you are able to see. Tell the Lord that you love Him, want to love Him more, want to walk before Him unto all pleasing, want to glorify Him in your soul and in your body. "Ask, and it shall be given you… knock, and it shall be opened unto you."* (Matthew 7:7)
Welcome to the ranks of those who by the grace of God, not with fleshly wisdom, have their conversation in this world.
" 'Tis so sweet to trust in Jesus,
Just to take Him at His Word;
Just to rest upon His promise,
And to know, 'Thus saith the Lord!' "*
---