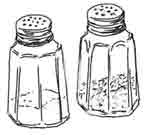 Easy Sunday Menus
---
Have leftover rice and chicken? Make these delicious
Chicken-Rice Enchiladas
(serves 12)
Saute in a large, 10-inch skillet:
1/2 c. margarine
3-4 ribs celery plus some leaves, chopped
6 cloves garlic, minced
1 c. onion, chopped
1/2 c. bell pepper, chopped
Reserve half of this mixture in skillet for sauce. Spoon out the other half into medium size mixing bowl and add:
2 c. rice, cooked
2-3 c. chicken, chopped
1-2 t. hot sauce
1/2 t. turmeric
dash white pepper
1 t. parsley or celery flakes
Sauce
Back to the vegetables in skillet. Stir in:
1 c. flour or 1/2 c. cornstarch
2 t. chili powder
2 t. cumin
2 t. sage
1 t. salt
Using a whisk gradually add:
3 c. chicken broth
4 c. tomato sauce
Cook until bubbly and thickened. If it gets a little too thick, add a little more liquid, such as broth from corn or green beans. Tomato juice or water would also be fine.
Pour enough sauce to cover bottom of any large glass or metal pan you have a lid for (Do not try covering with aluminum foil; the acid from the sauce will eat holes in it!). Taking 14 corn tortillas, dip each one in skillet of sauce, place in baking pan and fill with big spoon of rice-chicken mixture. Roll up and place upside down. Any leftover mixture may be placed on top. Pour extra sauce on top. Cover and bake at 350 degrees for 30-35 minutes. Grated cheese may also be sprinkled on top and baked an additional five minutes.
Serve with frozen peas and corn or carrots and a lettuce salad.