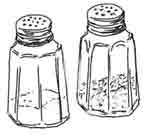 Easy Sunday Menus
---
Cabbage Casserole
(serves 12)
Place in casserole:
4-6 cups chopped cabbage
2 medium onions, chopped
Brown:
Add:
Place meat over cabbage and onion. Sprinkle liberally with dried basil.
In a medium saucepan combine and heat for 10 minutes:
2 8-oz. cans tomato sauce
1 1/2 cups white rice
2 t. salt
4 cups water
Pour over meat layer and then cover with another 4-6 cups chopped cabbage.
Cover and bake at 325° for 1 to 1.5 hours, or until cabbage is tender.
---
Carrot Jello Salad
(serves 12—very refreshing on a hot day!)
Bring to almost boiling:
Mix together:
2 3-oz. boxes orange jello
1 3-oz. box lemon jello
1 T. plain gelatin
Pour into boiling water and stir until dissolved.
Drain:
1 20-oz. can crushed pineapple
—save the juice!—
Add enough ice and water to pineapple juice to equal 2 3/4 cups. Add to jello, stirring until ice melts.
Peel and finely grate:
1 lb. (approx. 6 large) carrots
Stir carrots and drained pineapple into jello. Pour into a glass bowl and chill until firm.
---
Julienned Zucchini
Cut zucchinis in julienne lengths and stir-fry a couple minutes in small amount of olvie oil. Add fresh, minced garlic, or sprinkle with powdered garlic and cook another 2-5 minutes. Be careful not to overcook. Keep that beautiful green color! Overcooking makes it look dull and unappetizing and also destroys the delicious taste.
Sprinkle with Italian seasoning and, if desired, Parmesan cheese.
---
In making a really determined effort to lure your family into eating vegetables, you will find that they will respond more readily if the vegetables are appealing in shape. Think of the irresistible charm of vegetables floating like flowers in a Japanese-laquered bowl. The French are also very adept at presentation… they disguise the same old carrots, beans, and potatoes under a mass of impressive modifiers. As printaniere they are spring-grown, young, tender, and thinly sliced…. As julienne or allumette, they are taller and thinner, about 2 or 3 inches long and 1/8 inch through.

[The Joy of Cooking]
This method is wonderfully different. Be sure to use the small, tender squash.