Remembering Christ's Birth
"And, behold, there was a man in Jerusalem, whose name was Simeon; and the same man was just and devout, waiting for the consolation of Israel: and the Holy Ghost was upon him."* (Luke 2:25)
Can we try to place ourselves back in Simeon's time before Jesus was born? He was waiting. What was he waiting for? No doubt he had often read the promises of a messiah to come to redeem mankind from their sinful state. He had often offered a blood sacrifice for his sins. Just and devout, but longing for the consolation of a complete salvation and deliverance from sin that didn't require a continual offering of blood sacrifice.
He was an old man now. Can we imagine his long time of waiting? Have you ever waiting a long time for something? There is nothing you can do to hurry up the process—and God wants you to learn how to commit, trust, rest, wait, and fret not (Psalm 37:5-9).
Perhaps these scriptures kept ringing in Simeon's heart as the days and years came and went. Other scriptures were surely in his thoughts and meditations. There was the prophecy in Micah that pointed to Bethlehem as the birthplace of Israel's awaited ruler (Micah 5:2). Daniel foretold the time of his coming (Daniel 9:25). And Isaiah prophesied that "the Lord himself shall give you a sign; Behold, a virgin shall conceive, and bear a son, and shall call his name Immanuel."* (Isaiah 7:14)
God saw Simeon's longings and waitings and He chose to draw nearer one day and give Simeon an individual revelation. God delights in giving His children these special touches of love when we delight ourselves in Him (Psalm 37:4). And so it was that the Holy Ghost let Simeon know that he would not die until he had seen the Messiah, "the Lord's Christ."* (Luke 2:26) Don't you know his soul was filled with glory that day? The promise was soon to be given. The waiting time would soon be over!
How much longer he had to wait we don't know, but Simeon continued living close to God day by day. And then the day came when he felt especially impressed by the Spirit to go to the temple. Likely he didn't not yet know why, but the time had finally come that God was going to fulfill His special promise to Simeon. For it was on that very day that Mary and Joseph brought Baby Jesus to the temple "to present him to the Lord."* (Luke 2:22) When they walked in, expecting nothing other than the ceremony that thousands of other Jewish babies had experienced, God revealed to Simeon, "this is he."
Oh, what joy must have filled and overflowed out of Simeon's heart! "Then took he him up in his arms, and blessed God, and said, Lord, now lettest thou thy servant depart in peace, according to thy word: For mine eyes have seen thy salvation, Which thou hast prepared before the face of all people; A light to lighten the Gentiles, and the glory of thy people Israel."* (Luke 2:28-32)
Simeon wasn't the only one to be blessed that day. There was prophetess Anna, an elderly widow who "departed not from the temple, but served God with fastings and prayers night and day. And she coming in that instant gave thanks likewise unto the Lord, and spake of him to all them that looked for redemption in Jerusalem."* (Luke 2:37-38)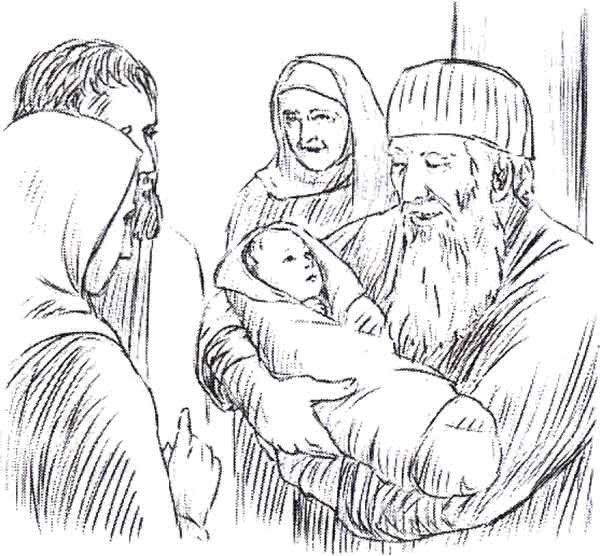 What a wonderful praise service they must have had in the temple that day! How it must have warmed Joseph and Mary's hearts as they continued along their path of looking to God for guidance when many others thought and spoke critically of them.
Each of the characters God used in recording the events around Jesus' birth have their precious story. The lowly shepherds in receiving the heavenly message from the angel, and their visit to the stable. The wise men with their gifts; their travels, and speaking with King Herod; the angel warning them in a dream to take another path home. God's dealings with each of these Bible figures offers a wealth of insights that He will apply to our own lives if we take the time to study and ponder.
How different is the Christian's remembrance of the Lord's birth than the world. In fact, it seems the world is hardly remembering Jesus' birth at all. The ingenious Santa story captures the hearts of children everywhere, stealthily shaping their worldview of what it means to "believe." Parents succumb to the spirit of materialism wrapped in the appearance of "love." Social expectations divert the energies and resources of multitudes who "think it strange that ye run not with them to the same excess of riot,"* (1 Peter 4:4) building relationships on a faulty foundation. Yes, Satan has many substitutes to blind people's hearts to get their minds off Jesus and His great gift of salvation. Oh, it is what they need so very much—and they know it not!
Christians, what about us? The mindset of the culture around us can creep into our own thinking if we don't take time to ponder the path of our feet. Or, seeing danger, we may be tempted to react and simply run the other way. But the Word says, "Fret not thyself because of evildoers."* (Psalm 37:1) Don't just complain of what the world is doing, but "sanctify the Lord God in your hearts."* (1 Peter 3:15) Make sure to lead your children into the right ways of remembering the Lord's birth. The record God has preserved for us is given to bless and benefit us all.
The calendar day of Christ's birth has not been recorded, for that is beside the point. As citizens of His New Covenant kingdom now inaugurated on earth, we are no longer concerned with observing days and times. It is not the day the Firstborn came that carries weight with us, but the fact that He came. "When the fulness of the time was come, God sent forth his Son, made of a woman, made under the law, To redeem them that were under the law, that we might receive the adoption of sons."* (Galatians 4:4-5) The Incarnation is the supernatural entrance into the world of the Answer to mankind's great problem, and its significance is only exceeded by the Resurrection and Ascension which concluded the earthly sojourn of Jesus.
When we consider the "joy in the presence of the angels of God over one sinner that repenteth,"* (Luke 15:10) it is no wonder that the heavens rang with the high praises of God above Bethlehem that night! The full potential of an abundant harvest is all contained within the sprouting seed. If the servants of God above celebrated Christ's birth with such joy and realization, cannot we also, as His servants here below, reecho that radiant hope in the true meaning of the birth of the Son?
God is still seeking for people who are looking for redemption. The same joy of Simeon and Anna on that day in the temple can also fill all hearts that seek Him today. God's gift of His Son to fallen humanity just keeps on giving.
"O little town of Bethlehem, how still we see thee lie!
Above thy deep and dreamless sleep the silent stars go by.
Yet in thy dark streets shineth the everlasting Light;
The hopes and fears of all the years are met in thee tonight.
"For Christ is born of Mary, and gathered all above,
While mortals sleep, the angels keep their watch of wond'ring love.
O morning stars, together proclaim the holy birth,
And praises sing to God the King, and peace to men on earth!
"How silently, how silently, the wondrous Gift is giv'n;
So God imparts to human hearts the blessings of His Heav'n.
No ear may hear His coming, but in this world of sin,
Where meek souls will receive Him still, the dear Christ enters in.
"O holy Child of Bethlehem, descend to us, we pray;
Cast out our sin, and enter in, be born in us today.
We hear the Christmas angels the great glad tidings tell;
Oh, come to us, abide with us, our Lord Emmanuel!"*
"My little children… I travail in birth… until Christ be formed in you."* (Galatians 4:19)
"The mystery which hath been hid from ages and from generations… now is made manifest to his saints: To whom God would make known what is the riches of the glory of this mystery among the Gentiles; which is Christ in you, the hope of glory: Whom we preach, warning every man, and teaching every man in all wisdom; that we may present every man perfect in Christ Jesus."* (Colossians 1:26-28)
"Unto us a child is born, unto us a son is given: and the government shall be upon his shoulder: and his name shall be called Wonderful, Counsellor, The mighty God, The everlasting Father, The Prince of Peace. Of the increase of his government and peace there shall be no end, upon the throne of David, and upon his kingdom, to order it, and to establish it with judgment and with justice from henceforth even for ever. The zeal of the Lord of hosts will perform this."* (Isaiah 9:6-7)