Anticipations of the Journey
That evening, after bidding his mother good night, Byron hastened to his room. There, alone in the quiet of the night, he bowed beside his bed and breathed a prayer of thanksgiving to God for His great love and compassion. For a moment his past life again came before him, with all of its sinfulness and blunders pictured in glowing colors, but it instantly vanished, and his heart leaped with joy, for he knew that his old life was all gone forever.
A picture of the future, made beautiful because of the presence of the Savior and a life of usefulness for himself, floated before him. He could see his pathway, leading ever upward in his Christian career, at last disappearing in the glories of the life to come, and as he laid his head upon his pillow, angels seemed to be comforting him.
When the worship hour arrived in the morning, Byron took the Bible that was handed him by his mother, and as he read from its pages the words seemed strangely new and interesting to him. When he went out to work in the field, he was still thinking of what he had read. "A day in thy courts is better than a thousand. I had rather be a doorkeeper in the house of my God, than to dwell in the tents of wickedness. For the LORD God is a sun and shield: the LORD will give grace and glory: no good thing will he withhold from them that walk uprightly. O LORD of hosts, blessed is the man that trusteth in thee."* (Psalm 84:10-12) These words had been memorized at Sunday school, but never before had they appealed to him as they did upon that particular morning.
He was certainly enjoying more true happiness out there in the field alone with nature and his God than he had ever been able to imagine before. He felt that it would indeed be an honor to be able to fill the very lowest place in the house of God. So happy was he as he worked that he seemed to be living in a new world. And while the merry songsters appeared to be warbling their sweetest anthems for his special benefit, he joined with them, as had been his habit in childhood, before his innocence had fled.
He realized that Christ the Savior had wrought the change, and he knew that he was not enjoying such happiness alone. His precious mother no longer bore the careworn expression that she had endeavored to conceal by a smile when anyone was around. She, too, was answering the little birds with a song of gladness.
Byron was now prepared for his ocean voyage. His former experience had taught him that he could rely upon the advice of the Holy Spirit, for no one understood God's chart, the Bible, better than this faithful Pilot.
The meetings continued for several weeks, and many souls were enlightened, and some, like Byron, found deliverance from a life of sin. Among the number were some of Byron's associates before he met with James, and he rejoiced that he could still have them for his friends and companions.
When the morning service of the last day's meeting was just about to close, the minister announced that in the afternoon there would be baptismal services at the river. At the appointed time the river's banks on either side were thronged with people who desired to witness the solemn scene. The little group of Christians from the chapel passed down to the water's edge, and there, beneath the overhanging branches of the trees, they offered a short prayer to God. When they arose, their voices filled the air with strains of heavenly music, and one of the scenes of the long ago was repeated. Slowly the minister and one of the candidates passed out into the stream as a sweet hymn floated upward.
Down into the flowing river,
Lo, the lamb of God we see;
There He speaks in clear example:
"Take the cross and follow Me."
Refrain:
Gently buried with my Savior,
Let me sink beneath the wave;
Crucified to earth forever,
Hence alone to God I live.
Now the sacred waters cover
O'er the holy Son of God;
Thus He washed me in that fountain
Of His sin-atoning blood.
Crucified with my Redeemer,
Now I sink into the grave;
I am dead to sin forever,
By the life of God I live.
Here I witness a confession
As I merge from human sight,
In the tomb of yielding water,
That the blood has made me white.
Oh, how sweet to follow Jesus,
In this ordinance to show
That we're cleansed in life's pure river,
Even whiter than the snow.*
One by one the candidates followed their Savior's example and were buried in a watery grave, thus testifying to the world that they were dead to sin; by representing the death, burial, and resurrection of Jesus, they were buried unto His death.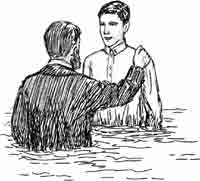 Byron was among the number. As he entered the water, there was a peaceful smile upon his face. He was thinking of the scene where John the Baptist was baptizing the people in the river Jordan, and he imagined that he could see the lovely form of Jesus just entering the water as he was now doing. He could see, in the picture, the troubled expression upon the face of the brave prophet and hear him humbly saying, "I have need to be baptized of thee, and comest thou to me?" and then Jesus answering, "Suffer it to be so now: for thus it becometh us to fulfil all righteousness."* (Matthew 3:14-15)
In fancy Byron saw the Savior buried in Jordan's waters, and a moment later arise again; then the heavens opened and the Holy Ghost descending from above. He also seemed to hear the Father saying, "This is my beloved Son, in whom I am well pleased."* (Matthew 3:17)
How different this scene from the one that a short time before had presented itself to Byron while the Holy Spirit talked to him upon the foot log. He thanked God that he had heard the voice and had heeded the warning in time to escape destruction. As he sank into the watery grave himself, he felt that sweet consolation that is the result of having fulfilled every known duty, and the assurance that his heavenly Father accepted him as His own dear son. There was no loud voice to utter the words, "I am well pleased," but the Holy Spirit whispered them in his heart.
Many regretted that the evening's service would be the last and that the little group whom they had learned to love must leave in the morning, but they were glad that so many had found deliverance from the bondage of sin.
As the minister bade Byron farewell, he remarked, "God surely has His hand upon you for service. Be faithful when He calls you into His work. There are many souls who are being tossed about upon the billows of sin, as you were. They are calling for help from far and near. Be ready when you hear their pleading, and haste to their rescue. God bless you and make you a power in His hands."
As Byron began his various duties upon the farm the following day, his highest ambition was to do with his might what his hands found to do and to perform it cheerfully as unto the Lord. From a few words that his mother had said at the breakfast table he had learned a beautiful secret. "In our efforts to please God," she had said, "we cannot please Him perfectly unless we willingly and cheerfully do the little trying things that daily fall to our lot. When we have properly performed these, He trusts us with greater responsibilities, for we are then more able to bear them. It is like testing a vessel in which we desire to put liquid. We pour in just a little to test it before we trust it with the full amount."
Byron wanted to bear the tests. He desired to be very useful for the Lord. Often, while his team was resting, he would steal away to some secluded spot and there pour out his heart in prayer to God. At times he was assailed by the enemy, but under such tests he went to his mother and there found the help and advice that he needed. Her suggestions were so to the point and he was so much in earnest that he advanced rapidly in his Christian life and duties.
He no longer dreaded family worship, but, on the contrary, enjoyed taking an active part in it. His mother proposed many things that made it very interesting. Sometimes they would endeavor to find the most important thought contained in the chapter read and would meditate upon it through the day; sometimes they would take some Bible character and compare his or her life with some modern person whom they knew; sometimes each member of the family would choose some verse in the Bible, and they would read and discuss these, endeavoring to draw from them every good point that they possibly could. In this way God's Word became real to Byron and was daily food to his soul.
Byron had found the source of true happiness. He had found, too, that there were two days that never caused him trouble any more. One of these days was yesterday. Yesterday was gone! Whatever had occurred on that day he could never undo. Not one word could he recall. All of its pains, sorrows, and regrets were forever sealed and far beyond his reach. He was glad for this. He was glad that the storm clouds that had thickened but a few yesterdays ago could never sweep over him again. The past could never return. It belonged to God.
The other day was tomorrow. Tomorrow was also far beyond his reach. No human effort could bring it closer. Its burdens, its sorrows, its perils, its mistakes and blunders, were as yet a mystery and sealed. The sun might shine in all its splendor or be hidden by weeping clouds, but the day belonged to God. Tomorrow would appear, it must appear as long as time continued; but when it came it would no longer be tomorrow, but today.
Byron's only day, then, was today. What he accomplished must be done on that day, for how could he know whether he would be alive when the next arrived. So he decided that he could and would be faithful in all that was committed to his charge. And he thought with great relief that he could fearlessly leave his yesterdays and his tomorrows in the care of his all-wise Creator.
It was well for Byron that his days had thus been committed to God, for on one occasion he was permitted to have a glimpse of the future with all its varied possibilities. A relative from a distance, who was a Christian man, came to the farm for a week's visit. During his stay he became greatly interested in Byron's faithfulness in performing his various Christian duties. Several times he went with Byron to the field and there, as they worked side by side, Byron's character and principles were displayed to the other's satisfaction.
One evening, shortly before he was to leave, this man was talking with Byron's mother about the great change in her son's life and conduct. He surprised her by saying, "I don't know what you will say when I tell you of what I have been thinking, but when I have made my proposition you may consider it or not as you wish. Now, I realize your care and anxiety concerning Byron's future, and how hard it will be for you to part with him, but I should like to have him return with me to my home and enter my place of business. What do you say to his going?"
So sudden was the thought of parting with her son that for a few minutes the mother was speechless, and in spite of her efforts to be calm, the tears began to trickle down her cheeks.
Realizing the depth of her feelings, the relative continued, "I do not wonder at your sorrow, but I do not think that you will ever regret the sacrifice if you will permit him to go. Byron is a bright young man, and his possibilities are great. I feel a deep interest in him, and I not only will help him to develop into a good businessman, but will see that he has opportunity to grow spiritually as well. I know that you will miss him here in the home and upon the farm, but I believe that his younger brother will soon be able to take his place in the work, and your heart will be comforted by the thought that your boy is where his mind and character can broaden out in God's service. The noble traits of character you have faithfully tried to instill within him will then be shown, and I promise to be to him all that anyone except his own mother can be."
It was some time before the mother could speak, but at last she said, "It is certainly hard to give him up, but, as you say, it may be the best to let him go. Byron has had some talks with me concerning his future course in life, and I have been at a loss just how to advise him. I believe that what you suggested will be just what he has been aspiring to, although of late he has said nothing about it. But here he is coming now. Let us talk the matter over with him."
When Byron entered the room, he could not understand why his mother and the visitor looked so solemn. But when he was told why, his countenance instantly brightened, and when asked what he thought of the plan, he said with excitement, "Oh, I'm sure I should like to go! But," he added, looking into his mother's tear-stained face, "I don't see how I could go. Mother needs me here at home. The work on the farm has increased in the past two years so much that I could not be spared, and then," with a little break in his voice, "I'm afraid that you will—or might—I mean—perhaps—" Poor Byron! He could not say what he desired to say, but his mother helped him out.
"You mean, Byron, that you are afraid that I could not give up my boy?" she asked.
"Yes, Mother, it was that. I was thinking how hard it would be to part with you, and I know that a mother's love is much deeper than her child's."
The love which that mother's eyes spoke could not be described—so deep yet so submissive and firm.
"Yes, my boy, I am willing for you to go," she replied. "It will, of course, be very hard to give you up, but there is no blessing without some degree of sacrifice, and I am glad to commit you to the care of one whom I believe is more able to help you now than myself. With the Holy Spirit as your guide and this good man as your friend and counselor, you should be able to develop into a useful Christian man and be a blessing to the world. I shall be comforted with knowing that, though you are far away, you will be able to write and tell me how you are doing, and can also come to me sometimes."