Project, poem, and verse
---
Make a Bearing-Up Burro
You will need for the donkey:
a donkey front and back cut out of stiff paper
a toilet paper tube 3" long
Other supplies:
a piece of cloth 8" x 2-1/2"
a stapler and glue
small papers 2" square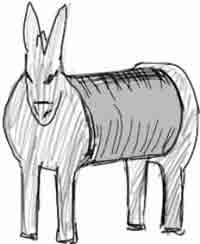 Put the donkey together like this:
Make his pack by folding each end of the fabric up 1-1/2" and stapling them on the sides to make pockets. Put the pack on your burro's back, and put the paper in the pockets.
Here are some ideas of how to use your burro:
Keep him on the table for "thank you" notes
In one pocket put papers that tell Hard Things for Me. In the other pocket put verses of how Jesus Can Help. Jesus always has help for us to bear our troubles!
Keep his packs full of God's promises or your memory verses.
---
Life's Clock
The clock of life is wound but once,
And no man has the power
To tell just where the hands will stop—
At late or early hour.
To lose one's wealth is sad indeed,
To lose one's health is more;
To lose one's soul is such a loss
As no man can restore.
The present only is our own;
Live, love, toil with a will;
Place no faith in tomorrow,
For the clock may then be still.
---
A verse to hide in your heart:
"Charity suffereth long, and is kind."* (1 Corinthians 13:4)