Something You Can Do
Do you like to paint pictures? Springtime is full of new and beautiful things, so make a picture or card for someone special to you! Here is a fun project to try, using watercolor paint and a good imagination: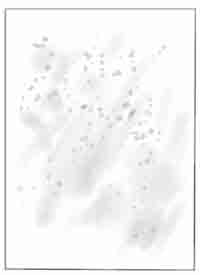 Picture Springtime
You will need:
watercolor paper or other thick paper
watercolor paints and paint brush
felt tip pens or a black ink pen
Dampen your paper with a wet brush so that the picture will have a soft look when you start painting.
To begin, choose 3-5 cheerful colors. Try yellow, purple and green. Or pink, blue, green, and brown. Mix enough water into each of them so they will give a light color.
Now, daub the colors on your paper in any way you want. Use strokes or splashes, being careful not to mix them. Your paper should be colorful like spring, with white areas in between. For my picture I sprinkled water drops on the paint as it was drying.
Let your painting dry all the way. While you wait, start looking for the pictures of spring hidden it it. Maybe you will see daffodils and crocus flowers. Or maybe a butterfly on a little lamb's nose! Can you imagine more new things that show springtime?

Now use your pens to make your imaginations come to life. Be careful to use only a few lines and let the color show through. There is more than one way to draw in your picture. See how my springtime picture could turn out two ways?
When you are done, you can use the whole picture, or cut out your favorite part to glue on a card. How about making your card for Mother or Father's Day? You can add a verse or special message to bring new joy to their day!