How God Healed Winnie
Not long ago, John's youngest sister (if you remember the story of "How John Used His Sword"), was very sick. Here is what her pastor, Lawrence, tells about it:
One day my wife got a call from John's mother. She said that she was not able to go to work because Winnie, who is about 4 years, was very ill. My wife was very burdened to pray for her, and the following morning the Lord told my wife and I to go and anoint her (as the Bible teaches in James 5:14).

The other children had gone to school, but we found the desperate mother in her small room with the child lying on the floor. Winnie was unable to sit up or do anything, but lie down. Her mother said that she was even unable to eat. So we prayed and anointed her.
Then my wife was inspired to hold Winnie and try to move her legs. At first she cried with pain as her legs were moved, but then she was quiet. So my wife held her up and tried to walk with her. They took a few steps together, and then Winnie walked on her own. Her mother exclaimed: "Oh, oh, it is a miracle!" Since they live in a rented apartment house, several of the other residents came out of their rooms to see what was going on. Winnie's mother told them what was happening, and my wife testified to them about the healing power of God.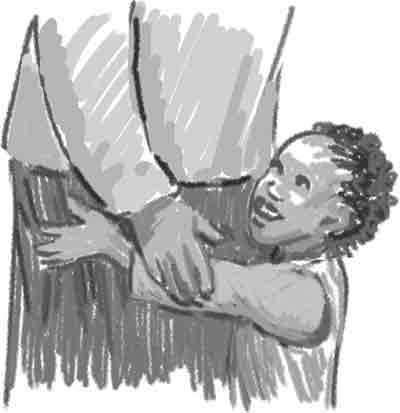 We went to check on Winnie the following morning, and sure enough, she was playing! When she saw us, she ran towards my wife and hugged her around the knees. There was joy and gratitude on her face. That day she accompanied her mother to her work, leaping and rejoicing! Her older brother and sisters testified in our worship service about the miracle. They sang songs and rejoiced, thanking God that their sister was healed.