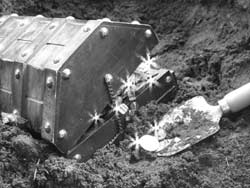 Some of our treasures are special gifts that surprise us! But sometimes they are hidden in a hard job or problem we have. Read about the "treasure hunts" that these children had! I hope we can print your story next!
Do you have an experience to tell? Just write to me and I will help you write it up! —Miss Laura
The Bunny and the Chicks
Hi to you all! I am going to tell you the story of the bunny and the chicks ☺. One day I was not sure if I could get very cheerful. I don't know what I was doing, but suddenly I heard a little peeping! I looked out of the window, and what I saw took my breath away!!! There was a proud hen clucking happily.
She had sixteen chicks following her! Wow, what a surprise. We thought she had been eaten by a wild animal. Those sixteen chicks grew up to be pesky little balls of feathers. I have always looked at those chicks as a blessing from God.
Now to the bunny. I had a bunny besides Smudge. When we were at camp last spring, she got loose. We never saw her again. Then comes Smudge! I had been wanting a bunny, but I didn't have enough money. Last Christmas I received a big surprise! We draw names, and Joyful got my name. When they came one night, Caleb had a box and gave it to me and said, "be careful." I put it on the ground. He said it was breakable! Hmmm… what could be in it, I thought. Pop! Off comes the lid and can you guess? Yes, there was my bunny! I named her Smudge because she has a dark brown smudge right on her nose! I take Smudge as a gift from God, too!
—Ragain, 10