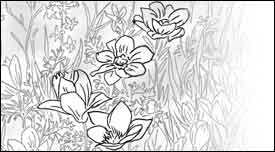 A Bible Definition of Pride
"Oh, to be but emptier, lowlier,
Mean, unnoticed, and unknown,
And to God a vessel holier,
Filled with Christ, and Christ alone!"*
I feel a burden to write about pride, and I want to address the subject in such a way as to be of practical benefit to those who love God and want to walk worthy of the vocation to which they are called (Ephesians 4:1-2).
The Bible tells us that "the pride of life… is not of the Father, but is of the world."* (1 John 2:16) God has made us capable of achievement, but there is an attitude that arises naturally with achievement that is not of the Father, but of the world. To have victory over pride is to excel and achieve without giving a place to this sinful attitude. In this way, it is similar to being a steward over material increase. "If riches increase, set not your heart upon them."* (Psalm 62:10) You can see at a glance that it is both possible to set your heart upon earthly riches, and it is possible to avoid doing so. The same Father who has made us capable of achievement has also made a way to do exploits and yet possess a lowly mind. "Thou shalt hide them in the secret of thy presence from the pride of man: thou shalt keep them secretly in a pavilion from the strife of tongues."* (Psalm 31:20)
Pride, then, is a mental attitude; it is not attainment itself. An individual was once told, "I don't see how you can keep from being proud because you read so much." But it wasn't the amount of reading or retention that mattered; it was the attitude of the heart toward the acquisition of knowledge. Jesus was full of goodness and success, but He was able to say, "Take my yoke upon you, and learn of me; for I am meek and lowly in heart: and ye shall find rest unto your souls."* (Matthew 11:29) We can learn from Him how to be meek and lowly in heart, while conquering and overcoming through the power of God. Jesus was able to reply to the rich, young ruler, "Why callest thou me good? there is none good but one, that is, God."* (Matthew 19:17) Now He was full of goodness, and the servant is as his Master, but the goodness comes from the indwelling God, and the attitude of the heart toward the virtue within is right, i.e., lowly and humble. Jesus was quick to give the credit to God. Although He was God Himself, come down from heaven to offer Himself as an atonement for us, He quickly and reflexively gave the credit for virtue to His heavenly Father. It is this set of heart and mind that avoids the pride of life and lives in humble reliance upon God.
When the man stood in the temple and prayed with himself (not God), it was not that what he had done was wrong, nor was it the fact that he was living more virtuously than other men that condemned him. It was appropriate and right that he was not an extortioner, or unjust, or an adulterer. It would have been wrong, a shame, and a disgrace if he had been guilty of those things. It was the attitude of his heart toward what virtue he had in his life that was dead wrong. He was wrong while he was right, at least in some things. The pride of his heart separated him from God. It kept the door of mercy closed against him. A far more reprehensible man beside him was able to humble himself and attain mercy.
You can readily see that an attitude of deep thankfulness and an attitude of pride are mutually exclusive. There is an independence of God and God's bestowals in a proud outlook that renders any attempts at appreciation and gratitude as hollow and insincere. "Is not this great Babylon, that I have built for the house of the kingdom by the might of my power, and for the honour of my majesty?"* (Daniel 4:30) Notice the independence from God in the declaration of Nebuchadnezzar. There is no acknowledgment whatsoever of how much this king owed his position and worldly success to the God of heaven. The proud Pharisee in the temple "stood and prayed thus with himself."* (Luke 18:11) He did not pray with God, who resisteth the proud and heareth the humble, but "with himself." He went through the motions of giving credit to God, saying, "God, I thank thee,"* (Luke 18:11) but it does not take much insight to see that he was not really leaning on the Lord to live with integrity, nor did he possess the accompanying graces from God that come with receiving His help. For the power and glory that comes from God to make His children overcomers also comes with full provisions for a deep feeling of unworthiness and gratitude.
"I am only an earthen vessel,
The graces within are not mine,
For the love and the power and glory
Belong to the Savior divine."*
Before you can be delivered from pride and be a humble child of God, you must face this inner conviction that you believe that you are superior to others and you must come to an absolute certainty that there is no merit or goodness in you of yourself. Only inasmuch as God is present within you are you good, and then it is not your goodness, but His (James 1:17). It cannot be overemphasized how needy we are of God's help in this matter of discovering all pride within us. Verily, we cannot do it by ourselves, no matter how rigorously we discipline ourselves. The awful irony is that the very vigor with which we pursue pride in ourselves will induce a hidden pride in that very effort. Proud of our attempts to get rid of pride! Is it possible to escape the pride of life?
Yes, a soul can wait on God with trust in Him (trusting in His provision, Hebrews 11:40) that He will discover everything that needs to be discovered. This waiting is death to the flesh. It is a continuing confession of our need—very humiliating to our powers of reason, etc. But it is facing reality—the reality that only God can free us and keep us free of this deadly trait. And, in its essence, humility is simply a coming to terms with this reality: I am weak; I am really weak; really, I am weak; I will always be weak; always, I will be weak; I need God; I will always need God. How utterly, appallingly weak and needy I am! I will never get to a place where I will not be so needy of Him.
There is nothing that I can do to escape my inherent weakness. Even being filled with the power of God does not change the fact that I, myself, continue to be weak. I can be full of might and power by the infusion of His power, but it is always His—I am still weak in myself.
I repeat, it is not possible to get to this place without the help of the Holy Spirit, who alone knows all and how to bring what He knows to light in just the right way as to be of help. In every way, it is a personal Divine Revelation of the soul's need to the mind and will. It is informative to an incredible degree in that wonderful way that God has of saying so much with such little said. He touches the keys to the soul in every case, unlocking and manifesting, revealing and convicting; all with that wonderful tender love and hope that speaks better things than the best of the glory of the natural man. "Verily every man at his best state is altogether vanity."* (Psalm 39:5) "For the word of God is quick, and powerful, and sharper than any twoedged sword, piercing even to the dividing asunder of soul and spirit, and of the joints and marrow, and is a discerner of the thoughts and intents of the heart. Neither is there any creature that is not manifest in his sight: but all things are naked and opened unto the eyes of him with whom we have to do."* (Hebrews 4:12-13) He reveals to us what we need to know to have and retain His approval, and the process is ongoing and precious beyond words. There is such an encouragement in it!
"Hark! I hear Hope sweetly singing
Softly in an undertone,
Singing as if God had taught her,
'It is better farther on.' "*
With all this comes an overwhelming conviction of the rightness of God's way—we plainly see and acknowledge our humble state. Listen to the conviction in these words:
Pride must die in you, or nothing of heaven can live in you. Under the banner of this truth, give up yourselves to the meek and humble Spirit of the holy Jesus…. Humility must sow the seed, or there can be no reaping in heaven. Look not at pride only as an unbecoming temper, nor at humility only as a decent virtue; for the one is death, and the other is life; the one is all hell, and the other is all heaven.

So much as you have of pride, so much you have of the evil one alive in you; so much you have of true humility, so much you have of the Lamb of God within you. Could you see with your eyes what every stirring of pride does to your soul, you would beg of everyone you meet to tear the viper from you, though with the loss of an hand or an eye. Could you see what a sweet, divine, transforming power there is in humility… how it expels the poison… and makes room for the Spirit of God to live in you, you would rather wish to be the footstool of all the world than to want the smallest degree of it.

[William Law; Spirit of Prayer]
Only when the soul is fully stirred and aroused to an understanding of its need, only then can you fervently and effectually call on Him who is able to deliver in fervency and faith.
My experience has been that God will break something in you. Something that will help you to keep "prostrate in the dust"* before Him. It will be as Jacob, who wrestled with an angel all night to get help from God. He would not let go until he was blessed; and finally, "[the angel] touched the hollow of [Jacob's] thigh; and the hollow of Jacob's thigh was out of joint, as he wrestled with him."* (Genesis 32:25) "And [the angel] said unto [Jacob], What is thy name? And he said, Jacob."* (Genesis 32:27) This acknowledging of his name was a confession, for the name Jacob meant supplanter, i.e., a sly individual, tricky and conniving, a person not to be trusted. This was what he was—he had been named accurately. And the angel required him to acknowledge it. After this humbling experience, Jacob never walked as he had before. He limped. His name was changed to Israel, and he was no longer the proud, sly Jacob, but he limped the rest of his life.
And thus it is when God touches us and breaks our self confidence before the awesome truth that "without [Him we] can do nothing,"* (John 15:5) that is, nothing worthwhile.
"Only one life, 'twill soon be past;
Only what's done for Christ will last."
Regarding the natural things of life, we limp. We have come face to face with a great reality, and it takes away our confidence in natural gifts, abilities, talents, energies, etc. With Brother Paul, we can say we have "no confidence in the flesh,"* (Philippians 3:3) and we prove it, too, counting all else but dung that we might win Him and be found in Him; that He might approve of us, use us, and dwell within.
"I am not worthy of the least of all the mercies, and of all the truth, which thou hast shewed unto thy servant."* (Genesis 32:10)
When my inner image of myself is adjusted to my needy reality and I have accepted my poverty as a fact of life, then the door is opened for a deep and heart-felt gratitude. How impossible it is to be truly thankful without a humbled heart!
The poet said,
"None but the holy and innocent sing,
Out of a bosom where pleasures abide."*
This is certainly true, but I would like to put another thought beside it: you can only know real thankfulness as your heart is humbled.
"Enshrined within the bosom
Of Father's tender love,
We seem in deep mid-ocean
Of heaven's bliss above."*
Just as there are certain vantage points of view in observing the landscape, etc., there are places which open to us more perfectly the nature of our relationship with God, with His plan of salvation, and with our small part in the general scheme of things. It is needful to live very lowly to bear the yoke that God has for us with Him. How much damage is done by the pride of men's hearts! How necessary it is to be meek and lowly of heart to do the works of God! Jesus commands us, "Take my yoke upon you, and learn of me; for I am meek and lowly in heart."* (Matthew 11:29)
In the book A True Story in Allegory, written by Sister Lottie Jarvis, she writes of "The Taming School." This was and is a way devised by the Apostasy family to control the preaching of the gospel wherever they can. Who were the best candidates for the preachers of apostasy? "Grade One: This grade will be for those who are a little high-headed, self-sufficient or inclined thereto."* Just as it is necessary to be very humble-minded to do the Lord's work, it is just as necessary to be at least a little proud to do the devil's work.
Some years ago, the author observed a number of precious people who had a great zeal for God, a real missionary burden, and a spirit of sacrifice to pay any price and endure any hardship. They realized that the group of people where they had found the Lord were letting down and compromising truth, and they abhorred that. They withdrew with a lot of blessing, high hopes, and confidence toward the future. I would to God they would have realized all they envisioned.
Years later, I was talking with one who had been part of that. "I noticed their pride," he said, "but I reasoned that they had something to be proud about." This brother was young in the Lord and did not realize that all the work of the Holy Spirit in people starts, continues, and ends with lots of humility. In spite of the high profession of these people, the pride was a dead give-away that something was badly amiss. Furthermore, the pride would hinder them from seeing their need.
Thus it has proved out. Soon a hierarchy began to manifest itself among them. One with more experience insisted that he prevail. As did Diotrephes in the Bible, he "love[d] to have the preeminence among them."* (3 John 1:9) The group accepted his dominance. He recognized some as more spiritual than others. In this way, an "inner circle" emerged. They lorded it over the others, all in the name of decency and order. The thrust and weight of such scriptures as Matthew 23:8-12 and 1 Peter 5:3,5-6 were ignored. If you had questioned what was happening, you might be answered by such scriptures as Hebrews 13:17. This is the effect of pride. It exaggerates the direction in which it already has an inner inclination, until lines are crossed and sin is committed. The effect of pride among these dear people was such that the ministry were exalted to the place that should be occupied by the Holy Spirit alone. The entire spirit and nature of the people within the movement changed character as men submitted to men, thinking they were doing God service.
But you might say, "Does not this scripture in Hebrews 13:17 teach a submission to the ministry?" Yes, but for it to be properly understood and followed, there must be an humble ministry which will not take advantage of the people whether by accident or design. Such a ministry will stay in the order of God, and that is the kind of ministry that was in the New Testament of which the writer of Hebrews was speaking. It was a ministry in which all children of God—those anointed to preach the Word and those anointed to hear the Word—submitted to each other constantly in the Lord. "Yea, all of you be subject one to another, and be clothed with humility."* (1 Peter 5:5) It was not just the hearers submitting to the Lord in the speakers, but the speakers submitting to the Lord in the hearers, also.
Back of all this subject of ministerial authority is the great fundamental difference in the Old Testament and the New. We find it in Hebrews 8:11—"And they shall not teach every man his neighbour, and every man his brother, saying, Know the Lord: for all shall know me, from the least to the greatest." God only spoke through some to others in the Old Testament dispensation because no one possessed the law of God written in the mind and heart that is the centerpiece of the New Testament. But in the New Testament, "all shall know me." The Lord can and does use any as He sees fit, and others of His children hear His voice and submit. Yea, "a little child shall lead them,"* (Isiah 11:6) as long as that little child is an earthen vessel for the solemn and august voice of God. For His sheep "know his voice. And a stranger will they not follow, but will flee from him."* (John 10:4-5)
But in a given person or group of people, everything depends on their level of humility, which determines how much and how easily they are persuaded by what "seemeth right unto a man."* (Proverbs 14:12) A great dearth of self-sufficiency in a person will keep you waiting on God, for you will feel your need greatly.
This is what happened to the people mentioned above. Their pride deceived them. They thought they were pretty special. In fact, there was and is definite traits in them of this scripture: "No doubt but ye are the people, and wisdom shall die with you."* (Job 12:2) Their human enthusiasm and elation were inspired by their flesh, rather than from heaven, though they knew it not. They were very sincere at first and wanted to do it right, and this seemed right. So they did it. They followed whatever seemed best to their ministry, and their ministry tried to do what seemed best to it, as well.
What followed was classic. Something else was leading, not the Spirit of God. God was faithful to them, but the little checks and warnings were ignored in the general excitement and determination to follow this path. A spirit of emotionalism characterized their meetings. They were full of enthusiasm for display and show, all in the name of demonstrating unity and convincing others of the rightness of "the way." The more they did; the more strenuously they "strain[ed] at a gnat, and swallow[ed] a camel,"* (Matthew 23:24) the more highly they thought of themselves. They could not imagine any reason not to think highly of themselves. They really were superior in life, missionary outlook, and unity to everybody around! They became impatient with humility in others—especially others coming to them. It became synonymous in their minds with infantile feebleness, and was a thing to be left behind as soon as possible.
In this way, the door was opened to all kinds of errors and oppressions. For, just as humility is the door of entrance into every manifestation of God's grace (unmerited favor), pride is the entrance into all manner of evil work. Envy and strife came in like a flood in the absence of humility, and the movement would have fallen apart if the leadership had not clamped down a brutal and oppressive requirement to submit to them in everything. This stopped the tendency toward anarchy, but it did nothing to restrain the growth of pride. For God's kingdom works by love for what's right and this inner conviction of the soul that one needs and wants whatever God determines is best for oneself. When this love-for-truth through humility is supplanted by desire fueled by pride and ambition, then the humble waiting on God by both ministry and everyone else is gone.
"Let nothing be done through strife or vainglory; but in lowliness of mind let each esteem other better than themselves."* (Philippians 2:3)
I will now quote a little from the writings of Brother Pink:
When I came in contact with this movement in 1903, I met a people that manifested great love for each other, all spoke the same thing, and at least seemed to see eye to eye. I attended a campmeeting where there were 329 preachers, and there were no lords over God's heritage, no Reverend's, D.D.'s, or other lordly titles, only brethren. There were no programs in advance, or committees to guard the pulpit. God was able to bless. There were four sessions every day for ten days, and usually there would be 30 or 35 ministers on or around the platform when time came for services. Usually someone moved out leisurely and delivered the message. I never saw two make a start for the pulpit at the same time. A time or two, they would sing and pray and no one went to the pulpit. They sang and prayed again, but still no one rnoved. Finally someone rose up and said, "I believe the Lord wants a general testimony service." It proved to be a real blessed time in the Lord.

Other times someone would get up right in the rear of the audience and walk leisurely to the pulpit and deliver the message. No one was ever over anxious to get to the pulpit, afraid someone would beat them to it. They knew that no matter who delivered the message, it would be the same truth. Surely the Spirit of God was leading as it should. I have remarked many times that that was the nearest sitting in heavenly places in Christ of any place I have known.

[Old Paths vs. New Light]
Meetings such as Brother Pink described I have known in the 1970's, although the numbers of people and ministers were much less. And I can testify in the same way as this brother to the blessing that comes from being lowly-minded and letting God have His way. "They knew that no matter who delivered the message, it would be the same truth."
"I am only an earthen vessel
That Jesus may use as He will,
Whether much I may do in His vineyard,
Or small be the place that I fill."
This disposition of lowliness, of focusing on my ungainly characteristics, my need, my poverty, my inadequacies, my general ineffectiveness is just the appropriate and suitable attitude for me to take in the kingdom of heaven. It is an acknowledgment of a solemn reality. "I am only an earthen vessel."
"I am only an earthen vessel,
But Jesus has pleasure in me;
While I gladly submit to His purpose,
A vessel to honor I'll be."*
When the angel appeared to Gideon and hailed him as a mighty man of valor because the Lord was with him, Gideon did not see himself as mighty or valorous. "And he said unto him, Oh my Lord, wherewith shall I save Israel? Behold, my family is poor in Manasseh, and I am the least in my father's house."* (Judges 6:15) Although lacking in many ways, he was at least rich in lowliness of mind and heart, which opened the way for God to be with him and use him, and the Lord told him, "Go in this thy might, and thou shalt save Israel from the hand of the Midianites: have not I sent thee?"* (Judges 6:14) For when we are little in our own eyes, there is no limit to what God can do with us. Verily, He can use a worm to thresh a mountain of wheat! (Isaiah 41:14-16). Indeed, this is what God wants: poor people who feel and acknowledge their poverty (Isaiah 66:2). Such people will not get in the way; they want God to be glorified.
Note that the might of that hesitant, doubtful man (Gideon) was his humility to God. That humility led to instant obedience, even as the army of Israel was minimized more and more, completely contrary to all human reasoning and common sense. It also led to Divine deliverance with all kinds of implications for good (Judges 7:2).
And thus we find God's people "clothed with humility"* (1 Peter 5:5) everywhere in the sacred records. "And David said unto Saul, Who am I? And what is my life, or my father's family in Israel, that I should be son in law to the king?"* (1 Samuel 18:18) "Then went king David in, and sat before the LORD, and he said, Who am I, O Lord GOD? And what is my house, that thou hast brought me hitherto?"* (2 Samuel 7:18) "I am not worthy of the least of all the mercies, and of all the truth, which thou hast shewed unto thy servant."* (Genesis 32:10) "And now, O LORD my God, Thou hast made thy servant king instead of David my father: and I am but a little child: I know not how to go out or come in."* (1 Kings 3:7) Or the Syrophenician woman, who was willing to accept status as a dog to receive whatever blessings of God He deigned to give (Matthew 15:27). Or the Roman centurion in Matthew 8:8. All of these and many more were well covered with humility. Their modesty and self-effacement was well-pleasing to the Lord, even Him who stated, "Blessed are the poor in spirit: for theirs is the kingdom of heaven."* (Matthew 5:3) For our God has always been mindful of the poor. And when our Lord was found in fashion as a man, "he humbled himself,"* (Philippians 2:8) thus leaving us an example to follow in His steps.
Here we might well ask you, dear reader, are you covered? Or does the shame of your inner nakedness appear? Do you think more highly of yourself than you ought to think, or do you think with a God-inspired soberness of what has been entrusted into your hand. "Every good gift and perfect gift is from above, and cometh down from the Father of lights."* (James 1:17) Do you congratulate yourself on your achievements? Is thine heart lifted up in thine own estimation? Do you say within thyself, "My power and the might of mine hand hath gotten me this wealth?"* (Deuteronomy 8:17) Does a deep thankfulness and deep gratitude to the Great Giver well up from within your very soul along with a profound conviction of unworthiness?
The writers of the epistles speak of humility in language similar to the language of Jesus. Paul said, "In honour preferring one another."* (Romans 12:10) Do not seek to be the greatest; do not seek for highest honors; but seek the lowest place and prefer that your brother have the honor. This text Conybeare and Howson render thus: "In honor let each set his neighbor above himself." It reads as follows in Rotherham's translation: "In honor outdoing one another." The word rendered prefer means "to take the lead" in being nothing. "Be ambitious to be unambitious." Outdo each other in being humble and show this by preferring that others have all the honor. Some have grace enough to be willing that honors be given to another if they themselves can have equal honors; but to the truly humble such grace is given as enables them to secretly desire all honor to be given to others. Is this your experience?

Suppose that in company with three other brethren you went to pray for a man dying of consumption. The man was healed instantly and in a few days was a well and strong man. Someone, in telling of this wonderful healing, told who the other brethren were that prayed for the dying man, but failed to mention you. An account of the healing appeared in the paper, giving the names of the other brethren that were present and prayed, but omitting your name. Would you secretly rejoice? Would you be really and truly glad if it should never come to the ears or minds of anyone that you, too, were present and prayed for the man? O my brother, if you are humble, you will rejoice to be unknown and unnoticed.

At one time two brethren made a visit to some sisters. Several beautiful songs were sung by the sisters. Finally one of the brethren sang a very inspiring hymn. There was, however, but little comment upon the hymn. After the lapse of a few moments the brother asked whether any of the company had ever heard that hymn before. The reply was that they had not. He then told them that the Lord had given him that song down in the rural districts of one of the southern states. The point for the brother to examine closely is, Did he desire to magnify the Lord, and the Lord alone? Or, did he have a secret desire to let the company know that he was the composer? Self has a desire to be set forward, an itching to be noticed. The Apostle John would have said, "The Lord gave a disciple that song to His own glory." How beautiful a grace is humility! Self sometimes gets so cunning as to seek applause by seeming to shun it.

[Charles E. Orr; The Hidden Life, "Humility"]
Now the same God that humbled Nebuchanezzar is able to humble you. He wants your consent, however. He is able to humble you without your consent and do good thereby, but for you to really get the blessing out of it that He wants to give you, you must "humble yourselves therefore under the mighty hand of God, that He may exalt you in due time."* (1 Peter 5:6) God will do His part, but you must humble yourself. That is your part. You must pass condemnation upon whatever the Spirit of God reveals as pride in your life. God provides humbling circumstances and situations to everyone on earth, but only a few are getting out of this all that they should. If you want to be one of those who receives all the benefit of God's dealings with you, you must humble yourself. This means more than just deciding to be humble. You must embrace the reality and let the conviction of your great need and dependence settle deep in your heart. You must cry for assistance to do this, for we are so needy, that we cannot even humble ourselves appropriately without Divine assistance. How little we are; how insignificant in ourselves! How little we matter as human beings; how little we count in the great scheme of things! And, as individuals, how small and cramped are our gifts! There are many who can do so many more things better than we can. And God can bless anyone at any time to surpass our feeble efforts greatly!
How unreasonable it is to be proud! How foolish to exalt ourselves! How ungainly and awkward an earthen vessel! How unlearned; how lacking in eloquence! How easily brought to confusion; how easily baffled and perplexed! And together we are just as needy as individually! We have been created to need God, and, oh, do we ever need Him!