Bring to Your Remembrance
—excerpt from a message
"Whereby are given unto us exceeding great and precious promises: that by these ye might be partakers of the divine nature, having escaped the corruption that is in the world through lust. And beside this, giving all diligence, add to your faith virtue; and to virtue knowledge; And to knowledge temperance; and to temperance patience; and to patience godliness; And to godliness brotherly kindness; and to brotherly kindness charity. For if these things be in you, and abound, they make you that ye shall neither be barren nor unfruitful in the knowledge of our Lord Jesus Christ. But he that lacketh these things is blind, and cannot see afar off, and hath forgotten that he was purged from his old sins. Wherefore the rather, brethren, give diligence to make your calling and election sure: for if ye do these things, ye shall never fall: For so an entrance shall be ministered unto you abundantly into the everlasting kingdom of our Lord and Saviour Jesus Christ. Wherefore I will not be negligent to put you always in remembrance of these things, though ye know them, and be established in the present truth."* (2 Peter 1:4-12)
Consider what is this that Peter is so concerned that they remember. It says, "I will not be negligent to put you always in remembrance of these things, [even] though you know them." It's important; I need to bring it right back to the front of your mind. To stir you up by putting you in remembrance (1 Peter 1:3). Furthermore, I'm going to try and do this so thoroughly, that when I'm not around to stir you up anymore, it will stick (1 Peter 1:13-15).
What was this that was so important? Well, I see that what it brought was being fruitful—"neither barren nor unfruitful"—being secure in our walk with the Lord, and prospering. There was something we need to remember about God and there is something we need to remember to do ourselves. We need to remember about God's great promises, His ability. It was Him who called us out of darkness. It was Him who, by His great power and His promises, brought us to life. And then there was something that was real important for us to remember: "Giving all diligence"—and then there was this list. Add to your faith virtue, knowledge (of God), temperance, patience, godliness, brotherly kindness, charity.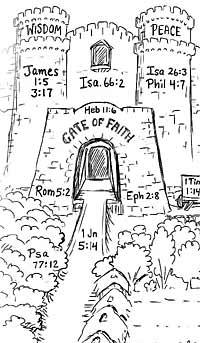 I want to look at this thought, "Giving all diligence." I thought of diligence in terms of applying yourself steadily at something, but when I looked it up, at its heart it really means, "with all speed." Do it right now! Promptly! Get it taken care of! "With all diligence adding to your faith virtue." That is to say, I need to seek the Lord's help to live a virtuous life right now, when the test of my virtue is on me.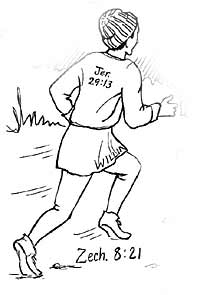 Here's a situation: I promised someone something and I'm not really able to carry through, and I'm tempted to just hope they don't notice. That's the time to call on God: "Lord, I need to be faithful. I need to tell them just why I'm not going to be able to do this. I need to communicate even if it costs me. I've got to live right. I need help right now to overcome this desire to avoid the difficulty, and take care of it."
"Lord, I'm tempted to not carry out this responsibility; it's awfully hard—I need help right now to be a virtuous person, to do this thing—to do it to the best of my ability. And if I'm simply not able, to communicate what I need to communicate, to take responsibility, to be someone who can be considered faithful." How am I going to do that? Maybe I have a lot of trouble being faithful—my memory is short, or whatever cause there might be, "I need Your help, Lord—You have power to make me virtuous!"
"Lord, I'm really wanting to just splurge on this right now. Lord, I just feel like doing this, and I know that I've got these other things to do." Or maybe, "We're short on money and can't really afford this right now, but I just feel like doing this, and I need Your help now to be temperate, to have self-control—help me right now!" Not, "I feel like sometime later I want to develop some self-control," but, "Help me right now, Lord!" "Lord, this person is so trying to me. I know becoming patient is a good long-term goal…. No—I need Your grace right now. Help me right now to be patient in this situation." "Lord, I don't really care about this person very much; they aren't very lovable. Lord, help me right now—pour Your love into my heart. Give me grace—right now, with speed. I'm coming to You quick: help me!" You can see, if we "with all diligence," "with all speed," draw near to God and claim His promises, that's about the best we can do, isn't it,and the rest depends upon God.
Brother Peter wants for us the best we can do. Maybe I'm the least patient of people I know. But God can give me grace to become more patient. Maybe I've been self-centered in my life and am not a very virtuous person; God can help me to be more virtuous. "I'm not trying to be as virtuous as so-and-so, I just need to be more virtuous. I need to be virtuous in this situation, by Your grace, Lord."
"I never had much of a natural kindness toward people. I know so-and-so is just a kind person… Lord, I see that in this situation, I need to be kind. It doesn't come to me naturally; help me!"
See, draw near to God, quick! Right now. Because those who don't do such things have forgotten that he was purged from his old sins—what does that mean? Don't forget the power of God. If we don't promptly come to God when we need help to live right, we are forgetting that this was the key to our ever getting help in the first place—we came to God.
It wasn't because for many years I resisted God's dealing with me, and then finally God helped—it was because I stopped resisting God and turned myself over to Him and got help from Him who had the power I needed. I don't want to forget that. I don't want to forget and get distracted by the devil saying to me, "You're not a very good person about being very loving to other people"; or, "You're not a very patient person"; "You haven't done very well in this area." "Never mind, it's true—I haven't done well in this area. But, Lord, You brought me from death to life; that's something I couldn't do. You can help me do this, Lord, by Your power."