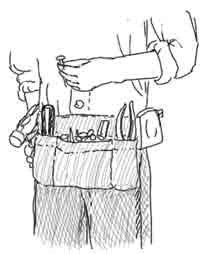 Something You Can Do
Are you ready for another sewing project? It will be best to use a sewing machine, so you might need someone to help you. If you don't need a carpenter apron (or know someone who does), you can change the design to make a cleaning or sewing apron. So lets begin on
A Handy Apron
Besides a sewing machine, you will need:
scissors
a measuring tape
thread
pins
denim fabric (or an old pair of Daddy's jeans!)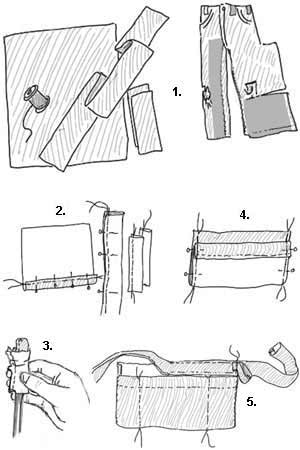 First cut your fabric. The big piece should measure 12 inches square (15 inches for a bigger person), and the long strip should be 36 inches by 4 inches. The little pieces are for holding loops—use the loops on the jeans or cut pieces 4 inches by 2 ½ inches.
Now it is time to sew. Ask someone to help you set up the machine for straight stitching with medium-size stitches. Fold the edge of the square over 1 inch and pin it. Sew along the turned-over edge. Fold the strips in half lengthwise (right sides in) and pin together the edges. Sew 3/8 inch from the edge. Sew across one end of the strip.
Have you ever turned your socks right-side out? Turning tie strips are harder. Use a dowel or measuring stick for the long strip and a pencil for the little ones. First poke the pencil into the sewed-up end of the strip. Use your fingers to push the fabric down over the pencil until you see the end poke out. Now pull it inside out!
Fold the hemmed square as the picture shows. Sew along each edge. Turn it right-side out. Now you can sew the pockets.
Next lay your long tie strip (it should be turned right-side out!) across the top of the apron. Each side should have the same length tie. Stitch it to the apron along each side of the strip as the picture shows.
Finally you can add your hang-loops and trim off the loose threads. If you like to hand stitch, you can even put words on the pockets. Fill it up with tools and you are ready for the job!