First Ripe Fruit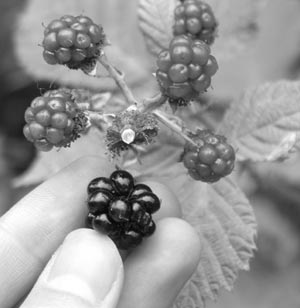 The blackberries are getting ripe by the railroad tracks. I'm going to pick some for breakfast. Do you want to come along? Make sure you have sturdy shoes and long sleeves—the brambles are prickly!
We take our pail and walk down the lane. Here, I'll help you over the ditch. The blackberries are on the other side. Here is a good place, you say. Look at all the berries! They are big and juicy, aren't they? You can pick the ones that are easy to reach, and I'll get the higher ones. Make sure to get the black ones.
This one is sour! you say, puckering your mouth. I agree. Not all the black ones are sweet yet. Try to pick the ones that pull off easily—see? Mmm! That one was good! I think the first ripe fruits are always my favorite. Can you help me find a sweet one? you ask. All these are stuck tight! Try that big one at the end of the bunch. See—it just dropped into your hand! Yummy! you say.
Hunting for the ripe berries takes time, but it is worth it. I think that the blackberries have a special lesson to teach us. Just as the sweet fruits are the ones that let go of the branch, our lives are sweet when we let go of our own way. Maybe it seems better to hold on and do things the way we like, but it really gives a sour taste. Like the blackberry that I picked first, you say. It looked good, but it tasted bad!
That's right. God is like a berry picker, too. He wants the first ripe fruit in our lives. When we give up our way and give our lives to God, how wonderful that is! Do you think it is worth all the hunting and scratches to get some yummy sweet blackberries? I do! And that is why Jesus suffered and keeps bearing up with people who are mean and selfish. He wants so much to find some that will yield to Him. I think the first fruits give Him special joy—those that give their lives to God when they are young. When we give Him our first love and strength and willingness, how sweet it is! Do you want to be a first ripe fruit for God?