How God Answered Patrick's Prayer
Patrick walked quietly into the bedroom. Grandpa was lying in bed, sick. He had been sick for a long time, and Patrick felt sad. Even though he was only four years old, Patrick knew about God. Grandma and Mama prayed to God whenever they had needs and problems. And when Grandpa was sick it was a big problem, because he couldn't pick Patrick up or take walks with him outside. So Patrick put his little hands on Grandpa's arm and prayed for God to make him well. Grandpa smiled and shut his eyes, so Patrick went back to the other room to play.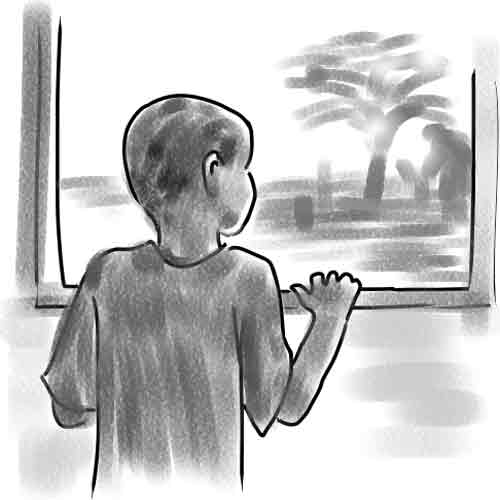 Soon Patrick thought of something else. He had only had a small bowl of corn porridge that morning, and he was hungry! "Mama, mama!" he called, running to find her. "I want something to eat."
Mama hugged him. "I know you are hungry, Patrick," she said, "but we don't have any more food in the house. Grandma is looking to see if there is anything in the garden."
Patrick looked out the window. The garden was brown and dry, because it had not rained for a long time. He went over to the kitchen cupboard and looked in the corn sack. It was empty. There was nothing to eat, but Patrick knew what to do. He closed his eyes and prayed for God to send them food. His tummy hurt a little bit, but he didn't fuss. Mama smiled at him, and he climbed into her lap.
When Grandma came back, she shook her head. "There is no money to buy anything at the market," she said. "We are all hungry, so let's keep praying. The Lord will help us out somehow."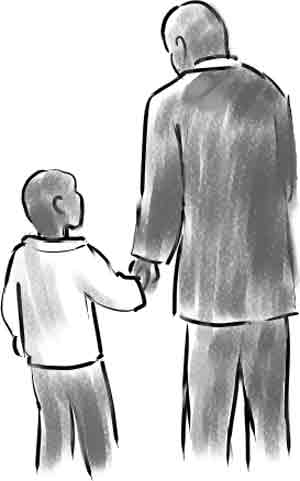 Patrick was playing on the floor when Grandpa walked out of the bedroom. Patrick jumped up with a smile and hugged him. "Are you better, Grandpa?"
Grandpa patted his head. "A little bit." Then he put on his coat and told Grandma that he needed to go to the bus stop to pick a lady up. "She called to say that she is coming from Mombasa and will stay with us tonight."
Grandma looked at Grandpa and slowly nodded her head.
"Can I go, too?" Patrick asked, running to get his shoes.
"Yes, you and your mama can come along," Grandpa agreed.
It was good to go on a walk. Patrick skipped and ran ahead, and then stopped for Grandpa and Mama to catch up. He smiled at Grandpa and held his hand. "You are better!" he said.
"Yes, God has given me enough strength to walk," Grandpa said with a smile. "We can thank Him for that."
At last they were at the bus stop. When the lady got off the bus, her arms were full of bags.
"We can help you carry your things," Mama offered, taking one.
Patrick took a bag, too. It felt heavy, but he didn't complain. "I'm strong!" he said, walking next to Grandpa.
"That's a good helper," Grandpa said, patting his head.
When they got home, the visitor told them to put the bags on the table. "They are all for you," she said, with a smile.
Patrick helped Mama pull things out of the bags. "Corn!" Patrick shouted, when he saw the white kernels.
"And corn flour for porridge," Mama said holding up another sack. "This is wonderful!"
"God gave us food to eat!" Patrick said, happily. "Thank you, God!"
"Yes, Praise God!" said Grandpa. "There is enough to share with others who are hungry. He is so good to take care of us!"
One bag was full of beans and another one had sugar and other things to cook with. Grandma smiled and told the lady how they had been praying for food, because Grandpa had been too sick to work.
"I didn't know that you didn't have anything to eat," the lady said. "But I wanted to help out. I'm so glad God sent me just when you needed it!"
Mama began cooking up some corn porridge and Patrick stood by to watch. "It is very hot, so be careful," she said, when she filled up his bowl. Patrick could hardly wait to eat.
"Thank you, Lord, for all your goodness to us," prayed Grandpa.
Patrick shut his eyes and tried not to wiggle. He smelled the yummy porridge. "Thank you, God, for this food," he said, "Amen!"