Something You Can Do
When you want someone to feel special, or they are not feeling well, or when you want to say "thank you," it is nice to give a card. It shows that you care about them and love them. But you don't have to buy a card—it really is more special and fun to make it yourself! (It could save your family some money, too!)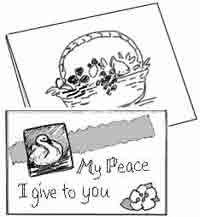 Make Your Own Cards
You will need:
card paper
a glue stick
scissors
pens, pencils, markers
extras: rubber stamps, magazine pictures, stickers, ribbons
Fold the card paper into a card, making sure the edges are even. You can make a double card by folding a larger paper over a smaller paper. This is pretty when you have dark and light colors (put the light color on the inside to write on).
Now design your cards. What will the person like the best? If it is a "Thank You" card, you can write that on the front. Use your nicest handwriting and write in pencil first. There are many interesting ways to decorate cards. Look at these ideas and think of your own, too!

Verse Cards: Write a Bible verse on the front and decorate the edges with a border. Stamp the front or paste on a picture. Open up the card and write the verse inside. Paste a little nature picture and a strip of paper, ribbon, or something else across the front, writing a verse in next to it.

Layered Cards: Cut out shapes, pictures, or stamped papers and paste on the front with a bow. Cut out a window or door in the front of the card. Paste a paper behind it to show a special message or picture. Use fabric and buttons to make a patchwork front.

Artwork Cards: Draw a picture of an animal, flower, or something else on the front. Paint a design or splatter the front with pretty colors. Use a white crayon to draw stars or something else in the night, and paint over the whole picture with black watercolor. The stars will shine through!

You can use your cards right away (remember to write a special message inside) or you can make several and give them with envelopes as a gift. God can help us use our time in ways to bless and encourage others.